Latest Top 5 Color Trends in Interior Design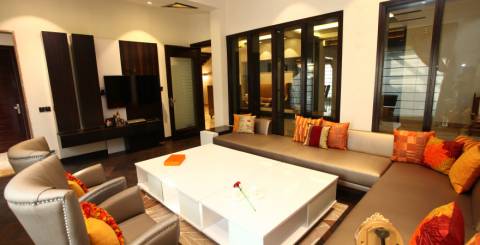 http://dubai.lasorogeeka.com/
Interior design trends are constantly changing, showcasing the best of the work done by exceptionally talented interior design companies and their teams across the world and setting new benchmarks for the rest of the industry to learn from and follow. This year has been no different and the best and most wildly in rage trends for the year are all here. Where colours are concerned, metallic shades were all the rage last season, but there's no telling where they stand now. Let's take a look through the top 5 colour trends in interior design for the contemporary look:
1. Pink – Don't write off pink as a feminine and girly colour just yet because interior designers across the world are going gaga over this beautiful colour. It doesn't have to bright and overpowering and overtly feminine but think of a rosy sunset and that is one of the shades of pink that is being touted to be the top used colours for interiors. Subtle cameo pinks with beige and coral undertones for vintage looks, blushing pinks offset with metallic accents, pale pinks (think of satiny ballet slippers) which create a romantic look and more pinks have found their way to the top of the design inspiration this season.
2. Yellow – The bright brilliant colour of sunshine is another hot colour to go for. A clear bright shade instead of one which leans more towards green or brown like most yellows used in interior design tend to go, this shade brings an eclectic and bold ambience to the interiors. Since bright yellow is also a colour which is Architectural recommendation for living room, what do you know; you can get both good fortune and great looks for your personal space by using this colour.
 3. Green – Believe it or not, green is actually considered a neutral colour ion interior design and is in great vogue in the current season for creating soft and sophisticated luxury interior design. Intense and elegant, green brings a classy feeling to the rooms, especially when paired with lighter shades of white, cream or beige in furnishings and accessories. Olive green is the preferred colour to design a relaxing ambience, while deep emerald green with its vibrant feel can work well for both modern and traditional settings.
4. Gray – For those who like to play it safe, white is unfortunately edged out from the list of the 5 hottest colours for the year as it is replaced with grey. From accessories to countertops and wall colour, gray is going to find increasing use in interior design for both homes and commercial spaces. The myriad different hues of gray, ranging from soft gray to charcoal, and even more metallic and lustrous pearlescent accents are going to be huge favourites.
5. Violet – Possibly the last colour you'd think of for interior design except maybe for throw pillows or an eclectic wing chair you'd place in a corner, violet has risen through the ranks to feature among the 5 reigning colours for this season. Inspired from the gothic trends running popular on the runway, violet has also made it into home and office interiors. Popular variations of this colour for interiors include wine and deep purple, and when paired with silver or stark white accents, this colour is making waves for chic styling of interior spaces.
Of course these colour trends are raging hot right now, but trends shall change, and if you want something timeless, choose the colour that you love the most, and work these top 5 favourites for the current season in with smart ingenuity. You'll absolutely fall in love with the final look which will be exclusive and the perfect blend of the latest trends and your personal choices.