HR Management Trend: Time To Roll Into 2017 With An HR Software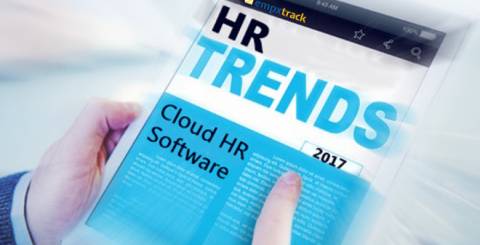 The HR software industry is growing faster than ever before. Despite limited budgets and IT resources, demand for automated human resource tools have increased exponentially in every sector. 57% of organizations are planning to make major HR software purchase in the next 18 months, as reported by Deloitte's Bersin division. Cloud HR software vendors are providing excellent solutions to help small and midsize businesses in centralizing their HR data, streamlining processes and making workflows more efficient.
When it comes to human resource department, small and midsize businesses want to automate each of their processes or move to an upgraded and more efficient system.In past few years, small businesses have been impacted by the need to build a competitive workforce and manage the complete lifecycle of employees efficiently. No doubt, HR software industry has evolved itself to meet strategic demands of these organizations. Yet, these businesses are facing several challenges.
Challenges for Small & Midsize Businesses
Limited HR Staff
Due to limited resources, there is a lack of sufficient HR staff in a small organization. A handful of team members struggles to manage HR responsibilities while overseeing multiple cross-functional processes. A single HR person may be responsible for managing recruitment, leave, attendance, payroll, appraisals, disciplinary issues and more – all at the same time.
This could overburden HR team, cause stress for the team members, and even result in disordered management of human resource processes. Introducing an automated HR software is a better way to deal with HR workload, save resources, and run human resource management processes efficiently.
Compliance Issues & Complex Record Keeping
A human resource team deals with multiple issues on daily basis. Enforcing HR compliance is another important process that HR professionals need to intervene into.For each business, it is necessary to maintain taxation, insurance, labor law and health care documents in place.
With limited HR staff, managing multiple human resource processes could result in frequent data errors, recurrent employee records, and an unsystematic file management.These mistakes can cause processing delays and legal fines especially when it comes to compliance issues. A highly-functional online HR tool can reduce the errors and help HR in maintaining the records quickly and efficiently.
Identify Employee Performance Gaps
In absence of formal performance management system in SMBs, identifying real reasons behind performance gaps of the team members become difficult for managers and HR. Unclear work expectations, lack of training, knowledge gaps, low engagement and unawareness of organizational objectives cause low employee productivity. Organizations need efficient online HR tools that can continuously track the performance of individuals, capture their achievements, allows managers to review their goals periodically, support skill development, and do a lot more.
High Employee Turnover
No clarity of work expectations, the absence of regular feedback, inadequate pay and lack of career development opportunities lead to a disengaged workforce. Having unsatisfied, unhappy and disengaged employees at work reduces overall employee morale in an organization. And may become a reason for high employee attrition.
Since organizations are always competing to hire high-performing employees, retaining top talent becomes a critical task. Recruiting, hiring, onboarding and retention, all these painful areas for HR can be simplified with a reliable HR software.
The Takeaway
To alleviate HR burden on a small to mid-size business and to get high returns on investment, there is a need for HR automation.
Having a cloud HR software in place can help you with:
- A centralized employee database
- Reduce employee queries and speed up HR processes
- Clearly aligned employee goals with organizational objectives
- Transparency and timely employee appraisals
- Identification & recognition of top performers
- Leadership pipeline for succession planning
- Statutory compliance regulations as per government norms
- Hassle-free employee time tracking and leave management
- Efficient streamlining of recruitment processes
- Reports and analytics for better decision-making
By automating human resource processes, small organizations can reduce HR workload, save resources, empower managers with the ability to make informed decisions, attract and retain top talent. HR software for small business not only manages people-related processes efficiently but also improves overall business profitability.