How To Save Money On Landscaping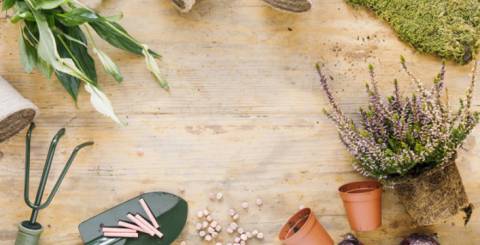 Even though it's what's on the inside that matters the most, the outside is not to be neglected. It's true for people and it's true for a house you live in. When people decide to redecorate their home, the majority will choose to invest money in transforming the interior of the house. This is mostly because people spend more time inside the house than outside. However, how your house looks on the outside can contribute a lot to the overall feeling of satisfaction. Making improvements on your landscaping can seem really mind-boggling, especially if you haven't done it before. Sure, you can always hire professionals to do the job, but why don't you do it yourself? By doing that, you'll save tons of money (we're talking about thousands of dollars) plus, you'll make sure everything is done exactly the way you want it. With the following tips, you'll get clued up about all the dos and don'ts on how to tackle landscaping like a pro.
1. Decide on where to splurge and where to save
When landscaping on a budget, maybe the most important thing is to find the balance between your budget and time or effort. Write down all the things that need to be done and then decide which of them require professional help. Those are the things that will cost you money but will save you both time and effort. On the other hand, you can save money by spending more time and effort by doing it yourself. Do the math, and find the solution that works best for you. The good thing is that you have more than one option to choose from.
2. Do some yard cleanup
Like with any other project, it's important to clean up space before you start redecorating it. In countries like Australia, more and more homeowners turn to landscape design over the last few years. The majority of them decide to take care of their yards in spring. There are probably fallen branches and rotten leaves all over the place that have accumulated during the winter. Get yourself a pair of heavy work gloves and get to work. When you pile up the rubbish, the best way to get rid of it is to schedule a delivery of skip bins. After they drop a bin or a dumpster at your address, all you need to do is load your junk and they will take it away.
3. Sketch out your landscaping ideas
Before you start any work, it's important that you have a plan or a sketch of how you want your landscape to look like. If you don't know where to start, you can find many wonderful ideas online, or you can go for a walk around your neighborhood and take pictures of landscapes that you like. Plan out the areas that you want to work on, and find out what types of plants will work best for you. Having a plan will make the work easier and will also prevent overspending.
4. Pick your plants last
When it comes to landscaping, the latest trends follow the less-is-more policy. Don't go over the top when choosing the plants because your landscape can turn out overgrown and messy. Instead, go for fewer plants but accentuate with layering. Leave the higher shrubs or trees in the back, and plant the medium size evergreen in the middle. The front should be reserved for the seasonal flowers. The size of your backyard will determine the number of layers. If you're working with smaller areas then you'll have only one or the layers. Paying attention to layering is important because it adds texture and makes the whole thing more interesting.
Landscaping is basically a frame of our homes. Good landscaping can transform the overall look of our house and it can also change its ambiance. If you have decided to enter the landscaping journey, it may seem overwhelming at first. Don't let that get you down. You don't need to be a designer nor splurge to be able to make the changes you want. With the right tips, you'll get clued up about the ways you can do your own landscaping on a budget. Then all you'll have to do is sit back and enjoy in your lush home oasis.