How to Plan a Retirement Party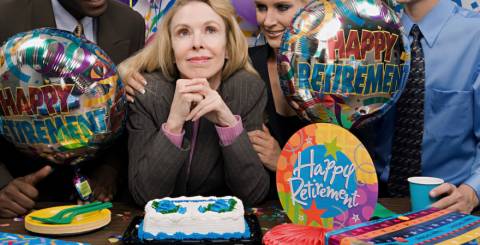 Planning for a retirement party is no different than planning a birthday or anniversary party.  However, if you are planning it for your boss, worrying about making it perfect – thus making a good impression on the next boss or your co-workers – can be daunting. But whether you're preparing the gala for a boss, co-worker, or someone in your family, preparations are basically the same.  If it's a surprise party, you will need to coordinate dates with the family of the retiree and have them make sure the person will be available for the party.  The family can come up with a convincing excuse for the retiree to be going out.
Arrangements for the party should begin six months before the retirement if the retiree gives that much notice.  If not, as soon as you find out he/she is retiring, begin making plans.  Sometimes a person announces his retirement a few weeks before the actual event takes place.  In that case, the party will have to be given after he or she retires, unless it's for a small gathering and phone-call invitations can be made.
If the party is for a married coworker, check with his/her spouse for available calendar dates and a list of friends and relatives that should be invited.  If it's for a relative, check with his/her closest co-workers for a list of employees to be invited.  If it's for a boss, everyone in his/her department should also be invited, as well as his/her superiors.  At a small company, with less than 100 people, the entire company roster should be invited.
For a large crowd, reserve a large room in a restaurant or book a banquet hall at a party house or recreation facility.  The guest list will decide how large a room will need to be reserved.
Menu planning will have to accommodate the many tastes and health problems common to older people.  Remember, many of the guests will be over fifty, and if parents, aunts or uncles of the retiree are still alive, they will be over seventy.  Pizza and wings may be okay for some folks, but not all of them.  Also, many people in the fifty-plus age bracket are on diets of one form or another.  Include salads and healthy foods in the menu lineup, so that everyone will be able to have something that's allowed on their diet.  Think, too, of the person's grandchildren or great-grandchildren– there should be food and drink for the younger crowd also.
Because it's a retirement party, you will need to provide guest speakers for entertainment.  If it is a humorous theme, you might want to plan it as a "roast," with friends, family and co-workers giving an insulting speech for humorous purposes.  If the person is retiring for health reasons, you will want to honor that person with respect and dignity, because he/she is retiring from need, not want.  One person should be assigned as master of ceremonies to introduce the other speakers, introduce the retiree, and be the one to present gifts.
Mail out invitations about a month to six weeks before the party, requesting immediate RSVP's so you can plan for the number of guests.  Do you want them to bring retirement gifts individually or do you plan to collect money to buy the guest of honor one large gift or several small ones?  Or maybe you will just give cash.  Mention on the invitation what you plan to do.  People don't mind donating money if they know what it's being used for.
Supply a map.  It is unlikely that any of the retiree's friends or relatives are unfamiliar with the celebrant's home town, but it could happen if the retiree traveled for his employer and has met folks from long distances.  If the job firm has offices in different locations, people from those locations that have worked closely with the retiree will be invited. If attendees are coming from out of town you must help them find accommodations, and make sure to include a map of the area in their invitation.
Order a special retirement cake.  A cake always seems to make any party complete -  and a personalized one, congratulating the person on a job well done, will be the grand finale.
Supply a guest book, and have it situated near the entrance to the party so that anyone coming in will see it and sign their name.  Don't forget to give it to the retiree when the party ends.
Arrange to have someone take pictures of the occasion, and after the party is over, have the pictures developed and put them in an album for a final gift for the retiree.
If the party is a surprise, make arrangements to have several people standing in strategic spots, holding their cameras and ready to shoot when the guest of honor walks into the room and sees the crowd.  You'll want to register his surprise on film.  Also, if the person receives gag gifts, photos of these can create priceless memories.  You'll want to register the retiree's expression when all gifts are presented.
Before hiring a band or disk jockey, check with the retiree's family to see what type of music they would like to hear.  Don't dismiss rock and roll – many of today's retirees are Baby Boomers and they grew up with Elvis and the Beatles.
Table decorations are not as important for a retirement party as they are for birthdays, weddings or anniversaries.  If the party is formal, a bud vase with a single flower would be appropriate.  If it's a humorous roast, streamers, noise-makers or brightly colored confetti would be fun.