How to Get Your Postal Mail while RVing?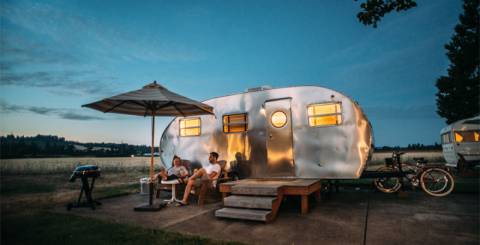 When you're always on the road, keeping track of your postal mail can be tricky. Whether it's important mail for business, letters, or utility bills, getting it delivered to your RV is a problem so you look for alternatives but even those can be inconvenient.  
We've done our research and put together all the possible ways you can get your postal mail. By the end of this article, you would've found the best service according to quality, cost, and efficiency. Each solution has its pros and cons but you'll definitely find one that suits your needs. 
The three ways to get your Postal Mail:
1. Send mail to a friend or family member
When you're moving around a lot that means you don't have a stable address to have your mail sent to. Most people use a friend or family member's address and have their mail sent there temporarily then you can either pick up your mail from that address or have the recipient forward the mail to you if possible.
It'll usually cost you just the postage fees which isn't much if it's paper mail or a small package. This is a preferred method because it is the cheapest but it can be an inconvenience to the person receiving your mail.
If you're able to work out a weekly/ bi-weekly schedule with them to deliver your mail, it'll be better. However, you will need to check with the RV Park if postal mail is accepted first because some territories don't have this option.
2. Send mail to a PO Box or Private Mailbox
Another solution to consider is renting a PO Box or private mailbox near you. You can rent a PO Box from the Post Office or online in a few minutes, the process is inexpensive and secure. However, you can only accept mail from USPS and no other mail carriers like UPS or FedEx.
You will also be restricted to this Post Office and area which can limit your portability. The same applies to renting a private mailbox; you'll need to be within the area to pick up your mail.
But private mailbox's offer you more flexibility to a PO Box because of longer working hours, better mail handling, and fewer mail restrictions, which is why it is also pricey so you'll need to find one within your budget.
If you're running an online or remote business and need a business address, a PO Box address will most likely not be accepted for registration and you'd be forced into getting a private mailbox. Many legal and government entities require you to have a physical street address for business and not a PO Box address.
3. Use a Mail Forwarding Service to get your mail directly
A mail forwarding service is a medium between both previous options, where it combines between a cost-effective solution and securing your mail. This service gives you full online access and control over all your postal mail 24/7.
Instead of having your mail sent to a friend or a PO Box that gives you too many restrictions, you can sign up for a virtual mailbox. With a virtual mailbox, your mail will go to secure mail facilities where it will be scanned and uploaded to your mailbox online.
You can then log into your mailbox and forward your mail to you, wherever you are in the world. And if it's not important mail? You can just shred the item or recycle it. This way you'll only get important mail that you need forwarded to you.
You can also use the other benefits of this service like online storage for your postal mail, physical storage for your packages, and get a street address to use for business.
A mail forwarding service is a virtual and advanced way to handle your postal mail, for individuals, businesses, and especially those on the road.
How will your mail get forwarded to you?
You can have your mail forwarded to you or your nearest location and no longer need to frequently drive long distances to pick up your mail. Remember to always ask about postal mail forwarding at any RV Park you go to and how secure the service is.
However, in order for your postal mail to not fall into the wrong hands, it will be best to have it forwarded to the closest Post Office to you.
USPS offers a service called general delivery where you can have any mail item forwarded under general delivery to a chosen Post Office. And so, you can have your mail forwarded to you wherever you go and at any time.
However, not all Post Offices offer this service so to inquire more about it and find out your closest Post Office, call 1-800-ASK-USPS (1-800-275-8777) or you can use the "Look up a Zip Code" tool on the USPS website .