How to Determine When Your Car Needs New Tyres?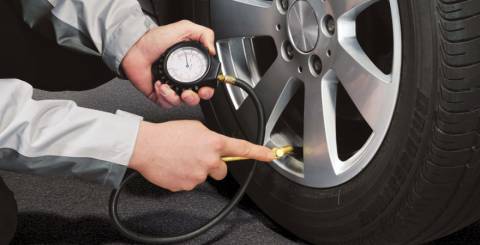 Tyres are certainly a significant part of a vehicle and yet they are often most neglected when it comes to taking care of our cars. Actually, every time you drive your car, its tyres are beaten and gradually worn out, just like your feet are sore after walking large miles. And, this can cause your car to go out of control while you are driving or even leave you stranded in the middle of the road with a blown-out tyre.
Of course, this would make you wonder "how to know when my auto tyres are in bad shape and needs a replacement?" Well, in this post we have listed some sure-fire ways that can help you to determine when your car needs a new set of wheels:
Keep a regular check on the tread depth
If you drive on dry road, the tread will reduce the contact patch area which in turn reduces the vehicle's performance. However, if you often drive on wet or slick roads, a good tread depth would be crucial. Actually, a good tread depth provides better traction roads because it is designed to disperse water from the contact patch area. The contact patch is a small area that is actually in contact with the road and transmits forces that ease the steering, cornering, accelerating and braking in vehicles.
This means if your vehicle tyres don't have sufficient tread, then their ability to grip a wet road will be limited and you won't be able to stop, accelerate, corner or turn it smoothly.
Therefore, make sure to check you're the tread depth of your wheels and ensure that it is not below 1.6mm.
Check the tread wear indicator bars
Generally, all newer tyres have tread wear indicator bars that indicate when it gets worn-out to its limit of safety. Tread wear indicator bars molded into the tread grooves at regular intervals.  These bars get flushed within the surface of tread when the tyre gets worn out to the minimum legal limit which is 1.5mm across the width of the tread.
In order to check the tread depth, you can use your vehicle's manual to know what your auto manufacturer recommends or take your vehicle to the mechanic.
Check the inflation pressure
Setting an ideal inflation pressure is one of the most important things you must do to take care of your car tyres properly.  To check the correct inflation pressure you can have a look at the owner's manual or on the placard attached to the driver's door pillar. Always check the pressure when the tyres are cold, usually before you drive your automobile. Because when the vehicle is driven the pressure increases and setting it after driving some distance can result in an incorrect pressure.
Additionally, an over-inflated wheels will wear out more in the center of the tread while an under-inflated one will wear on the outer shoulders. You must always make sure to maintain your tyres at a correct pressure such that it should wear evenly around the tread. Usually, you must get them checked at least once in every two weeks.
Rotate your tyres after regular intervals
Tyre rotation is crucial to maintain even tread wear and increase the tread life. Actually, they wear down at different rates according to their position in the automobile.
For instance, in Front wheel drive vehicle's front axle wheels wear at the fastest rate. But in the rear-wheel-drive the rear axle wheels receive all the braking forces making them too worn-out at a quick rate.
Therefore, in order to reduce the disparity between wheels that are wearing the slowest and those that are wearing the fastest, make sure to rotate them regularly. Also, in order to increase their life you must prevent locking them while braking and spinning them on acceleration.
When to replace my old tyres?
When you will take your automobile to the mechanic, most of them will suggest you to replace them by just having a look at them. However, you should not wholly rely on their words. Always make sure to have a good look at the depth of the grooves and inspect the wheels on your own.
Beside this, don't forget to check the spare wheel in the boot of your auto's trunk, since it is essential to upkeep them for emergency situations. Quality & best car tyres will increase the life of your vehicle as well.
However, if you need to replace your old set of wheels, you can visit your local second hand car parts retailer where you can find tip-top new tyres on sale. In fact, most of the retailers also keep used wheels on sale for folks that aren't able to afford expensive and brand new ones.