How to Create Your First CV?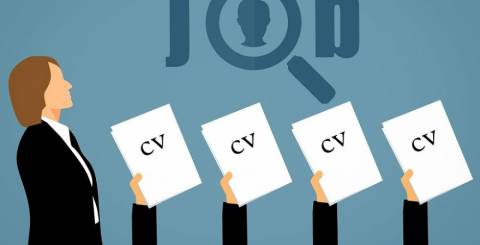 https://pixabay.com/fr/illustrations/emploi-recherche-hr-cv-occasion-3681036/
If you have to make your very first curriculum vitae, it is certainly because you are looking for your first job. As you might already know, you will face stiff competition since most employers favor experienced candidates. But you can change the deal by building a perfect CV. For this purpose, you have to follow the rules mentioned below.
Choose an Attractive CV Layout
Submitting a CV is a must to find a summer job, a work-study contract, an internship, or a first job. The first thing you have to know is that recruiters often receive hundreds of applications for a job offer. So, they only spend a few times (about 6 seconds) on each CV. Only if your resume catches their attention and arouses their curiosity that they will take more time to fully read it and pay attention to your cover letter. It means that you must build an exceptional curriculum vitae. Start going to an online CV generator. Then, pick a CV template that is sober, unique, elegant, and attractive at the same time. Be very careful, too fancy layout is to be avoided because it may be interpreted as a lack of seriousness by the reader. Now, you can fill the document with your own information.
Give a Relevant and Impactful Title to the CV
Instead of writing "CV" or "Curriculum Vitae" at the top of the document, place a catchy title that informs the recruiter of what you are looking for. Indicate if you are searching for an internship, a summer job, a work-study program or a short contract, by putting below your availability period. If you are looking for a first job, indicate the position or/and the skills that you have, possibly the title of your diploma. Examples:
Commercial Attaché for Large Accounts, available immediately
Industrial IT Technician looking for end-of-studies internship (July to September 2020)
Develop your Experiences
When you do not have a lot of professional experiences, you have to know how to highlight the rare internships, but also the extracurricular activities and projects that you have been able to carry out. If you did an internship of more than a month in a company, briefly indicate the achievement, the file, or the project on which you worked. Be specific, possibly mention figures without lying. If you are looking for your first job, take care of the CV presentation of the end-of-studies internship which might be your longest and most recent experience. It will be scrutinized by the recruiter.
Rely on your Studies
Of course, the almost blank page has to be filled in as much as possible so, any certification, diploma, and patent must be indicated on the CV. If only a few words line up under the "Professional Experience" heading, make sure to give enriched and relevant information in the "Training" part. Always start with the most recent diploma and do not hesitate to detail it as much as you can. You can also mention the title of your research dissertation if you have written one. Although, be careful not to overfill the document with irrelevant information.
Highlight your Language and Computer Skills
Companies that have the choice between two "equal" candidates will rather hire the one who has a good command of foreign languages. Thus, specify the languages you have studied, the number of years of learning, as well as your level. Also, good computer skills can be a real asset. It may seem innocuous to you, but do not forget to write it down on your CV to improve your chances of getting the position sought. Microsoft Excel, Microsoft Word, Adobe Photoshop, social networks, some software, etc., think of everything you can do with a computer.