How to Choose the Best Nepal Trekking tour?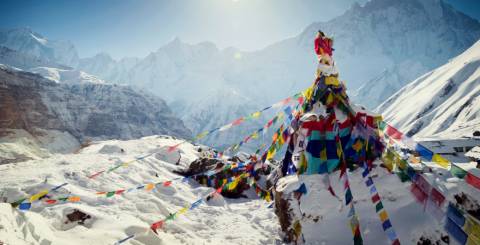 https://cdn.tourradar.com
Nepal has a lot to offer to the trekkers, who come to this land for a breathtaking experience through its snow-clad mountains touching the clouds, the vast jungles, winding river, and the various terrains. Nepal is a beautiful country in every sense, be it the magnificent views, panoramic mountains, and even the rich cultural heritage. It's the paradise for every backpacker which makes Nepal Trekking Tours a very promising sport.
Trekking is a fun and adventurous sport that takes you one step closer to the wilderness away from the crowded city life. You get to experience the adrenaline rush, testing your abilities and living in the natural habitat. Nepal as a destination for trekking adds a lot more to it and makes it a very promising experience.
There are a lot of agencies organizing trekking tours to various destinations in Nepal. They offer guided trek tours in small batches and take care of everything be it accommodation, airport and trek point transfers, food, navigation, medical experts and porters. It's important that you opt for the trekking tour that well suits your expectations and needs.
Following are a few key points you must keep in mind before choosing the right Trekking tour:
Experience and Difficulty level:
There are a variety of Trekking packages to choose from, depending upon the kind of experience you want to gain, the places you would like to explore, the terrain preference and the difficulty level.
If you're a beginner you must pick a tour with a shorter duration, lower altitudes, and easy terrains. Ghorepani Poon hill Trek is an ideal option for this scenario. You will witness some beautiful mountain views and enchanting Rhododendron forest while you trek past the Ghorepani Poon hill.
If you've already trekked before and wish to elevate the experience, the 12 Day Annapurna base camp trekking is the perfect option for you. The view from the high snow-laden peaks of Annapurna hills and glaciers would make your trip worthwhile. You will get acquainted with the Nepali lifestyle too as you pass through villages and interact with the pahadis (local people of the mountains).
Everest Base camp trekking invites all the advanced trekkers to fulfill every back packer's dream of getting to the Everest's base. This trek requires physical strength and good experience as you will have to go through a variety of terrains and thin air to reach the Everest base camp.
Client Review and Testimonials:
Testimonials can help you analyze a company's popularity and strength. Reviews are a very effective tool to understand the services, experience and, hospitality that the trekking company is providing. Customer experiences would make it easy for you to figure out if the trekking company is offering you what they've mentioned on their website. Refer to websites like TripAdvisor or Lonely Planet to get the actual and verified reviews.
Safety and Health Standards:
Trekking is a fun and adventurous sport until something goes wrong. The trekking company you opt for must issue Safety and health standards for their participants. One must make sure that there are facilities like first aid, oxygen masks and medical experts available for the trekkers.
Experience of the Agency:
The services and reliability of a company often depend upon the time the company has been into the business. Companies tend to make amendments as per their clients' reviews to make their tours more attractive and suited to the trekker's need. Experience in such trekking tours plays an important role too.
Cost and Facilities:
It's a good practice to compare the prices of packages and the facilities that come along with them. Many agencies offer low prices to attract customers but compromise with the amenities and services. Most agencies take care of the accommodation, airport picks and drop, and stick with the clients for every need. Make sure you thoroughly go through the key features and the services being offered.