How the Best Companies Prioritize Workplace Culture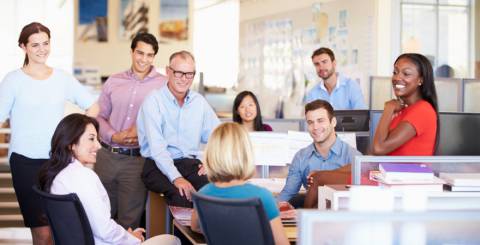 You've seen the studies. Happy employees are more productive, and there's no denying that Google is owning the awesome work culture code, complete with sleeping pods, happy hours and plenty of indoor game rooms on their campuses. Millennials are changing what the "work culture" entails. Long gone are the days of casual Friday being the most awesome day of all—why not make the entire work culture awesome? That's exactly what some companies are doing, largely in the tech field where hours are long, the work can be tiring, and employees are hungry for readily accessible fun.
Companies like Pagely, Asana, Facebook and Apple are known for their awe-inspiring work culture. Other companies? Well, they might have some catching up to do. You spend the majority of your waking hours at work, so why not make it better? Whether the company is concentrating on social media, Wordpress hosting or hardware, organizations that learn to embrace the idea of investing in people first are companies that thrive. The employees are empowered, and that inherently leads to a workplace of happiness. 
Focusing on services as well as customer experience is the foundation for any company, but it's just one slice of the bigger pie. Companies also need to work from the inside out, starting with the employee experience. Add in a little luck, timing, and a lot of sheer ambition, and you have the recipe for an awesome work culture platform that springboards to so much more.
Prioritizing a better work culture is also known as "back end work" and for a lot of companies (especially those in the tech industry), it's not immediately the most exciting of projects. After all, the front end is where all the glitz and PR seem to happen. Why focus on an area of business that customers likely won't see? That's kind of like asking why you should focus on the inner you instead of just the outer shell. A savvy tech company knows that it's what's on the inside that counts. (Plus, any physician can tell you health starts from within, and that goes for healthy companies, too!).
Working Better
Employees should feel at home when they're at work.It's likely that workers spend more waking, and perhaps even quality, hours with their managers, co-workers, and teams than they do family and friends. This can be especially true in a startup culture where the crew is small and employees might be putting in some serious hours. As companies expand and grow, it's crucial to have that established, positive workplace culture as the framework. Bringing on new hires is always a little exciting and stressful. Will we really like them? Will they like us? Are we going to all be part of one big, happy work family? (If you're lucky and plan well, the answer will be yes!).
What constitutes an awesome workplace culture may also grow or shift as companies mature. It's paramount to keep up with what the majority of employees consider "awesome." That might have been craft beers on site for Friday happy hours two years ago, but what about now? Being open to suggestions, transparent, and truly listening are all key to keeping the work culture alive. For companies like Credit Sesame, workplace culture is focused on solving problems, making a difference, and sharing the office with pets. Particularly in high growth stages when there's a slew of new employees being onboard, this is both a hectic time and the perfect time to make sure everyone's voice is heard. Newbies might not feel comfortable speaking up about what kind of culture they'd like to help shape, so offer options to anonymously provide input. After all, these are techies! Anonymous surveys that can be completed quickly from a company-provided smartphone is one great approach.
When a company is in growth mode, it's more important than ever to keep company culture at the forefront of everything that's done. You want everyone to grow with you, and to keep those adolescent pangs to a minimum.