How App Development Companies Can Adopt IoT to Improve Mobility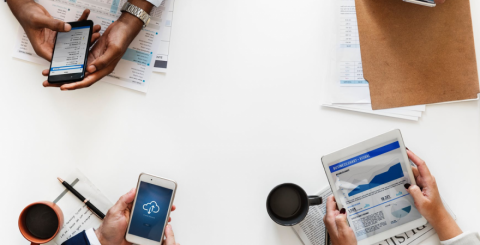 It's not new when we share the news that there are over a billion smartphones in the world and over 179 billion mobile applications are downloaded every year. This clearly put mobile app development companies at the center of attraction in the world of digitization, development, and computing.
The growth trajectory demonstrates the consumers' happiness in embracing mobility. And with this, it prompts a chance for enterprises to accelerate the demand and adopt mobile technology that proves to improve enterprise productivity. Such technology should also be able to collaborate with employees, partners, and customers.
The technology that enhances the power of mobile app development is none other than the Internet of Things. It has abruptly plaited digital revolution that impacts a users' daily lives. IoT, not being limited to just one single domain, connects people, machines, processes, and systems onto one technology-enabled network. Almost all the enterprises and organizations are incorporating its potential to redefine the way to interact with other humans, machines, and devices.
The question here is how an iOS or Android app development company can adopt IoT to improve mobility technology. Let's understand how with the help of the article.
1) Integrating Mobile Apps with IoT
There had been a tremendous increase in the count of a smartphone and thus apparently increasing the requirement of mobile apps that meet the versatile demand of mobile users. However, it's not only the smartphone that is associated with the user. There are other technology-driven gadgets that play an equally important role in making life easier for them.
To simplify processes and make life easier for users, there are few app development companies or developers that are adopting new technologies, for instance, integrating mobile apps with IoT. Almost all mobile platforms like Windows, Android, IOS etc. have enabled IoT applications into their systems.
They have elated the experience of users by interconnecting various electronic gadgets with mobile devices allowing users to manage all from one device.
2) App Tethering Approach
Though it may seem easy on the outside, IoT is a real task for app development companies or developers. They need to ensure that they have an efficient automation system which is necessary for data storing and transition between the connected devices. It is so because IoT is majorly the diffusion of valued data to the end user. To achieve the benefit, there is a need for a system that is capable of generating vast amounts of data, organizing and storing it for onward processing.
IoT-enabled app development companies look to integrate an adept app tethering approach as the solution to the challenge.  The developers or the companies utilize the functionality of app tethering strategy to improvise and extend the utility of mobile applications in almost all the segments of the industry which ranges from healthcare, food services, supply chain, manufacturing, finance, shipping etc.
3) Expand User Experience
Before introducing any technology to end users, it's important to understand the horizon, thoughts, demand, and expectations of the target users. A different set of users have different use of IoT enabled the app. For instance, few users would use it to control home appliances remotely, few would use it to monitor their health on mobile and etc. The expectation does vary as per the need, but the methodology remains the same for all demands.
To make available IoT enables app devices to users, developers can integrate IoT with connected applications by simply integrating Bluetooth and Wi-Fi support. This supports in enabling the device to send and receive data, develop access to remote control applications, and incorporating an auto device discovery system.
To manage multiple needs of a different set of users, app development companies or the developers first look forward to adopting an efficient software and infrastructure system and second deploy the well-organized channel through which all data can be effectively organized and processed.
Conclusion:
The mobile application industry is gearing up for a greater revolution. The revolution to evolve as the bigger power and relish the experience of end users. With its increasing pace over the last few years, mobile app development has turned the tables and shocked the industry to its core. Plus, when topped with integral technologies like IoT, it becomes a massive explosion of opportunities for all the segments in the industry promising them productivity, efficiency, and sustainability.