Help Your Small Business Through Simple Web Design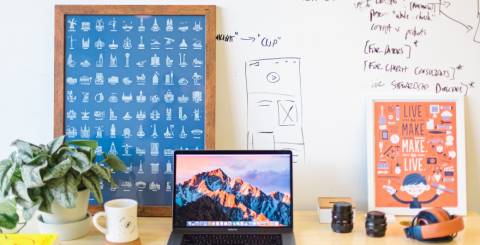 https://unsplash.com/photos/cqkbESEkhjk
When starting out, many a small business ends up struggling to continue growing after a certain point in its development. One of the main reasons for this is its online presence. Simply put, today's marketplace is almost completely digital, with online presence being so crucial to sales numbers that without one – your business might as well not exist. When piecing a site together, most people opt for a cheap solution to get the thing up and running and decide to leave it as is for an indefinite amount of time. It is precisely this sort of thinking that brought about stagnation in the first place.  While you can start with online courses, you must be prepared to invest time and effort before you're ready to do this on your own.
Less is more
When focusing on the design of our site, we start to see that the best-designed sites have taken to a minimalistic approach. With less and less going on the screen at once, the layout of the site has become as efficient as can be, focusing the user's attention on one thing and one thing only – the product that they're there for. The designs play with colors, motifs and imagery to not only sell a product but sell an image – a brand. This narrowed down view lets any visitor on the site focus on the important things and perpetually know where they are and what they're looking at.
Apart from content, another crucial thing our sites require is the removal of any unnecessary clicks. We live in an age where no one is willing to suffer through a plethora of clicks in order to buy something or procure services. The whole idea of online shopping is the convenience of having everything a few clicks away. People are even willing to pay more and wait for extended periods of time by buying online than going to the store and actually picking out what they'd like. It's a weird notion, but it is very much real and is precisely why any unnecessary mouse clicks need to be removed ASAP.
Granny-proof it
This is simply a concept that has become more and more prevalent in modern-day web design. The name essentially speaks for itself but just in case – granny-proofing is the practice of using our very own grandmothers as testers for our newly-created sites. The idea here is to place anyone who is reasonably detached from online interactions altogether and seeing if they are able to get to the checkout menu and buy what they want regardless of their lack of experience. If they are able to do it without any problems, then no one will and we're good to go.
Boost conversion rates
One of the best reasons to invest in quality web design is the conversion rates. Simply put, the prettier the site is for your desired audience, the better it will fare when attempting to close the deal. Conversion rates greatly depend on a site's ability to keep a person around long enough to make a passerby into a lead. This will have them give out a bit of personal information which can ultimately lead to more traffic and sales down the line. All it takes is to make something visually appealing, how hard could it be?
Streamlined UX
Pretty hard it would seem. Designing a streamlined user experience with just the right amount of content to sell an idea without assaulting visitors with offers, images and who knows what else is a delicate process. As seen in the works of prominent names in the biz like the Bapple web agency, these goals are definitely achievable, they just require the right touch to come alive. The great thing about investing in web design is that it's fairly affordable and finding something that works for both parties involved has never been easier.
Sleek and simple is the way to go
When looking to invest in the site of a company, look no further than web design. Despite what most will tell you about SEO and its significance, the design of a website is what will ultimately close the deal. After all, we're not catering to algorithms named after small critters, we're trying to sell to actual people. Keep it neat and tidy, keep it sleek and simple, sit back, relax and watch the customers start to pop up from all over the globe.