Five Ideas for a Fabulous Backyard This Fall
If you're living somewhere in the Southern Hemisphere, you're not exactly packing in your shorts and flip-flops just yet. You've pretty much got all year to enjoy that pleasant weather, maybe arriving at a brisk 50 degrees come the winter months. If your backyard has left much to be desired over the years, you may want to think about a few added accents to bring your outdoor space to the next level and make it a welcoming place for guests. Here are a few ideas to give your backyard a facelift:
Add an outdoor kitchen: Depending on how much cooking and entertaining you do, this may be a bit exaggerated and it is for sure an investment. But if you enjoy hosting dinner parties and that feeling of "living outside," an outdoor cooking unit is a really unique touch. If a unit is too much, settle for a nice grill and patio set. A place to cook and dine is key to making your backyard cozier and a place that you and other people will want to be. Instead of a kitchen, maybe you want to put in a fun tiki bar, a place to sip a cool cocktail after a dip in the pool. 
Install a gazebo or pergola: a dining and cooking area in the backyard would be incomplete without something to encompass it. A gazebo gives the area not only some shade but a really warm and "put together" feeling. If not above the patio table, use it by the pool to shade a relax area with some lounge chairs. Choose from different materials like wood for a truly rustic look. The great thing about a wooden gazebo or pergola is that you can keep them simple, or jazz them up. Add vines and intertwine plants for decoration and an added design effect. For the evening time, incorporate some lights, even your run of the mill string Christmas lights will surely do the trick. 
Get a hammock: a small investment, a hammock can add a great accent to the backyard and is a great place to relax with a book on a Saturday afternoon. If you want to make it even more of a cozier nook, incorporate it with the gazebo, making it your own little private relax corner.
Light the Way: Don't shirk the importance of lighting in your backyard. Whether you prefer professional lights to line your walkway or some randomly placed tiki torches, lighting adds a great and stylish touch. If you're itching with creativity, look into some DIY lighting options that can be a fun craft and will surely save you money. Paint some coffee cans and put candles inside or go for the vintage mason jar look. Usually, all it takes is something laying around the house and a few inexpensive candles.
Outdoor firepits: Firepits, outdoor fireplaces, and chimeneas are the latest trend in backyards everywhere. It seems every summer there's an invite at least once a week to sit around someone's fire pit. If you live somewhere like New England, you know that the summer evenings can get chilly, especially if you live by the water. And if you're not exactly into camping, this is something that brings the campground to your backyard. Like the kitchen, you can opt for an all out stone-encased fireplace or simply a small chiminea. The outdoor is all about "creating spaces." There's the dining space, a relaxing space, and even with the firepit you can choose to dedicate an area to sit around the fire.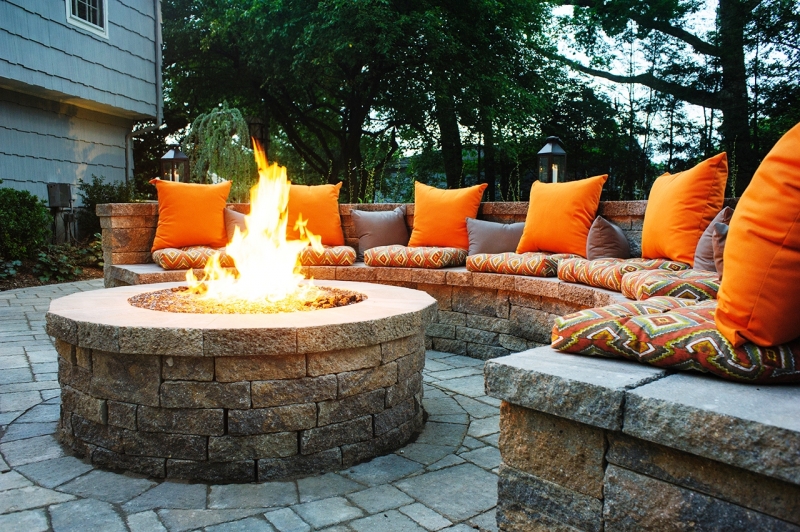 Whether you're a social butterfly entertaining guests one after another or just simply love being outdoors, give your backyard that extra touch that will make it irresistibly welcoming.