Five Beauty Products You can Make at Home Right Now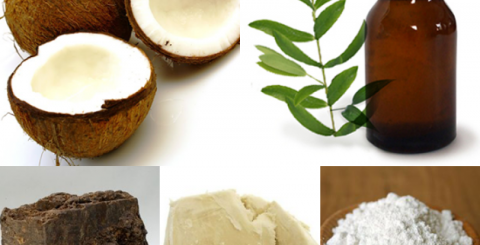 Are you a DIY junkie or a gal that just likes to scrimp and save? Maybe you just enjoy a little project here and there. Whatever the case may be, consider shelfing your store-bought beauty products and springing for the natural stuff made by you in the comforts of your own home.
Store bought beauty products look pretty fancy: nice bottles, elegant labels and the like, but the truth of the matter is that they are chock full of chemicals, and that's not exactly something we want to put on our face or run through our hair. Of course there are plenty of brands out there who pride themselves on 100% natural beauty products, but at what cost? It seems these days that going organic or going green or going natural costs an arm and a leg. It actually costs less to put chemicals in our body, how crazy is that? Well fret no more. Here are some beauty hacks that you can make yourself that are 100% natural.
The summer months are upon us and it's safe to say that it's hot! We need a strong deodorant to do the trick that is natural and that will let our skin breathe. To make your own deodorant, all it takes is a few essential ingredients you might already have on hand: coconut oil, baking soda and cornstarch. Mix ¼ cup of baking soda and ¼ cup of cornstarch together and mash in 6 tbsp of coconut oil. At this point feel free to add natural essences or oils for a lovely scent.
Feel as though you can't get that shiny smooth hair without your salon-bought shampoo or conditioner? Nonsense! Try this easy process for your own natural shampoos and conditioners that will cost you less and be less harsh on your locks. For a good mix, this takes a few more ingredients: mix ½ cup of distilled water, ¼ cup of liquid castile soap, 2 tsp of avocado oil, and 1 tsp of vegetable glycerine (for more body). As with all these suggested DIY products, understand that your skin, hair, nails, etc. will need time to make the adjustment. With the shampoo, your hair may feel stiffer or more tangled than normal, but once it adjusts, it will be fine. As for conditioners, there's a ton of regiments out there. For something that you can keep in a bottle and use daily, mix apple cider vinegar and water. Other conditioning treatments work with items straight from the fridge: mayonnaise, an egg white and yogurt, or simply and avocado and olive oil.
Need an eye makeup remover? No problem, we've got you covered. Mix 2 tbsp of Vitamin E oil with 2 tbsp of olive oil, 3 tbsp of alcohol-free witch hazel and ½ cup of water. For a natural exfoliator, instead take ½ cup of virgin coconut oil, ½ cup of ground sea salt, 1 tbsp of vitamin E oil and 1 slice of lemon. You must first melt the coconut oil as it comes solid, and then combine it with the other ingredients in a blender and there you'll have your own citrus-scented exfoliant.
Looking to put the designer perfumes away and make your own? It can actually be quite a fun process, as you become a creative little chemist, mixing and matching different aromass to get that perfect blend you will call your new perfume scent. Here you need to start with a base ingredient, which can be a number of things based on your preference and availability. Technically you can start with vodka as your base, but if that's not around, use almond oil. For a fuller bodied perfume, use coconut oil as your base. The perfect thing to have on hand here are some natural essences for the scent. These may also come in handy with the other beauty regiments above if you enjoy a scented product. Just add it to your base and go. Get creative with your natural aromas, mix and match and find the right blended scent to spray after a long day at the beach.
Whether you want to indulge for health reasons or to reduce the impact on the environment, you can't deny that these 5 do-it-yourself natural beauty products won't save you a ton of money. And there's nothing wrong with giving that a shot, now is there?