Festivals, Celebrations and Public Holidays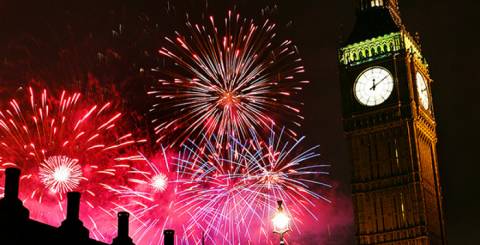 The United Kingdom is a rich and vibrant country formed by merging England, Wales, Scotland, and Northern Ireland. As such, it has inherited various traditions and cultures. As a result, you can find different types of festivals, celebration, and public holidays here. Whether it is religious, traditional, royal, and modern, there are vivid types of celebrations. People just love to get soaked themselves in the colours of festivals, be it observing in the street, at homes, or at a particular place specially reserved for the event. They take a sabbath on public holidays from work and business and enjoy with friends and families. Checkout the events, festival, and public holidays scheduled for 2017 and reserve your travel date accordingly.
New Year's Day – January 1st
The New Year's Day for citizens of United Kingdom starts with a holiday. It's a public holiday and all the banks, shops, institutions, and businesses remain closed. When the Big Ben strikes 12 in the midnight, people party with friends and families at homes or out on the streets. Like people around the world, the British citizens too make New Year's resolutions as a determination for achieving something extraordinary or killing bad habits. People in Scotland enjoy the first day of the year with music, dance, food, and fireworks. They sing their traditional song "Auld Lang Syne" to welcome the new year and observe it till 3rd January.
Burns' Night – January 25th
This day is observed in Scotland in honor of Robert Burns, the Scottish poet. People recite his poetry "Auld Lang Syne" on the New Year's day and on January 25. The celebration begins with music, and dance followed by a feast of traditional Scottish dish called haggis made of sheep's vital organs such as heart, liver, and lungs.
Chinese New Year – January 28th
The date for celebrating the 'Year of Rooster' usually falls between late January to mid February as the date varies as per the lunar and solar calendars. This is the biggest celebration in UK outside Asia where thousands of people conglomerate at Trafalgar Square. The celebration starts with a colourful procession that pass through the streets of West End. People gather here to watch the dance and acrobatics performance of artists. The event also sees a display of firework and a feast.
Valentine's Day - February 14th
This is the most popular event not only in the United Kingdom, but all over the world. It is celebrated in honor of St. Valentine. People go out for lunch and dinner with their sweethearts and give gifts in flowers and chocolates. The best thing about this day is there is love in the air and romance blooms.
St. David's Day (Wales) – March 1st
St. Davis was instrumental in spreading Christianity in Wales. To honor him, people are celebrating this day by wearing daffodil and eating a specially prepared soup that is an assortment of vegetables, beacon, or lamb. Various religious events are held across Wales. A huge parade is also taken out in Cardiff.
Mother's Day - 6th March
The pay respect for the innumerable sacrifices that mothers make for their family, this day is observed in the entire United Kingdom and the world. People thank their mothers for nurturing and caring them right from the birth. They give gifts as a token of love and respect. Many also take mothers out for a dinner, or cook a special meal for them.
Holi – March 12th
The festival of colours is celebrated by the Hindu community. It marks the arrival of the summer season and the end of winter. People throw colours on each other and wish "Happy Holi." People also make special dishes at their home and eat with their friends.
St. Patrick's Day – March 17th
Ireland celebrates this day as a national holiday. The Irish communities spread across the world observe this day with traditional pomp and ceremonies. Several cities in the UK also take part in the celebration. They wear green or a lucky clover and go out with their friends and drink Guinness, which is a dark beer prepared in Ireland.
Easter – April 16th
This time Easter is falling in April, which is always on a Sunday. Good Friday, that falls on the previous Friday, and the following Monday are bank holidays in UK. On Easter Sunday, people go to church and celebrate the resurrection of Lord Jesus Christ. They invite friends and celebrate with wine, sweet buns, and non-vegetarian food. Many give chocolate eggs as a gift for Easter.
St. George Day – April 23rd
This day is a national holiday celebrated to salute to the exemplary bravery of St. George, a Roman Soldier, who killed a dragon and saved the princess. The legend says he was a man of great courage, ethics, and principles. His deeds for the humankind had made him the patron saint of England. A parade with the St. George Cross flag is conducted, followed by the parties.
William Shakespeare Day – April 23rd
Coincidentally, Shakespeare Day is falling on St. George Day. While the latter is a religious event, the former relates to literature. The day is to mark the birthday of one of the greatest poet of all times – William Shakespeare. To mark the event, several plays adapted from his writing is organized.
Early May Bank Holiday – May 1st
Banks, institutions, and some businesses remain closed as the first Monday of this month is observed as a bank holiday. Scotland calls it the Early May Bank Holiday. This day is an indication of finishing of the winter and starting of the summer season. People decorate their house with flowers and perform pole dancing while musicians play accordion.
Ascension Day – May 25th
This day usually comes on the 40th day of Easter and is celebrated to mark the ascension of Jesus Christ into heaven. People in the United Kingdom visit churches and offer services.
Father's Day – June 18th
The third Sunday of June is reserved to honor fathers, grandfathers, fathers-in-law, and stepfathers. People give gifts and cards to their fathers and take them out for drinks and food. Since fathers contribute a lot in shaping the future of their children, many pay a compulsory visit to their fathers with gifts. They label the gifts as the "The World's Best Dad" or "For My Father" to show their appreciation.
Summer Solstice – June 21
This is the day of the year when the day is long and night short. Generally, the day varies from June 20 to June 22. People visit Stonehenge in Wiltshire. As the sun rises northeast and sets in the northwest, people stand inside the ancient monument facing northeast and look at the sun that appears like a blazing fire.
Eid-al-Fitr – June 26th
As per the Islamic calendar, Eid-al-Fitr is falling in June 26th of 2017. The Muslim community in the United Kingdom celebrates it by offering prayer at a mosque. They also end their 40-day long fast and decorate their homes. Since it is an auspicious day for the followers of Islam, people engage in charity. There are also live entertainment shows, exhibitions, and fair organized in Trafalgar Square in London.
Battle of the Boyne – July 12
This day is a local holiday in Norther Ireland and is celebrated as a victory day. The battle was fought between Prince William and Kings of Scotland, English, and Ireland on the east coast of Ireland in 1690. It was won by Prince William, who became King William III. The day is also known as "Orange Day," the Glorious Twelfth" or "the Twelfth." The Protestants in Northern Ireland held a parade wearing dark suits, black bowler, and white gloves with a flag.
Summer Bank Holiday – August 28th
The last Monday of August is observed as the summer bank holiday in England, Wales, and Northern Ireland. However, Scotland also observes it on the first Monday of the month. This day marks the end of the summer holidays and returning to work or school. This is the street festival where vivid costumes, music, and dancing are on display. A carnival is held in Notting Hill, which is attended by millions of people.
London Fashion Week – September 15th to 19th
London Fashion Week is held twice in a year – February end and Mid September. If you want to enjoy it in autumn, then you must visit in September. However, you need to get tickets in advance for the event that displays the best and the latest trends in fashion.
Halloween – October 31st
This festival is catching up with other countries as well, especially in the corporate circle. Employees in MNCs also celebrate it where they dress up gruesomely and try to scare people with their makeup. Companies also keep prices for the bizarre attire and spookiest appearance. Children in UK go knocking at the neighbours' doors and demand sweets or snacks. Those who refuse to give into their demands are tricked with pranks.
All Saints' Day – November 1
There are many saints who gave away their lives for the cause of Christianity. Sadly, many are not known or are in oblivion. To honor those saints and martyrs, churches in the United Kingdom mark this day on November 1. People attend church services and participated in acts based on the lives of various saints.
Bonfire Night – November  5
Bonfire Night is also known as Guy Fawkes Night. It is observed to mark the anniversary of foiling the treacherous plot of blowing up the residence of and killing King James of London in 1605. It is celebrated by lighting bonfires and setting off fireworks. Colourful parade, dance, and music are held in East Sussex on this day.
St. Andrew's Day  - November 30
St. Andrew's Day is a national holiday in Scotland. On this day, the Scotland flag is flown on public buildings. The day begins with various types of celebrations, musical entertainment, and social events. The best thing about this day is the ceilidh, which is a traditional music and dance of Scotland and Ireland.
First Day of Hanukkah – December 13
The first day of Hanukkah is also known as the Festival of Lights and is celebrated to mark the start of Hannukah period. It is celebrated by the Jewish community by lighting a candle or oil lamp. The stick that holds the candle is known as hanukiah, which can hold eight candles or oil lamps. Free doughnuts and chocolates are distributed and the day witnesses lots of celebrations accompanied by music.
Christmas – December 25th
Christmas celebration in UK begins a week before. People clean and adorn their homes with Christmas trees, coloured fairy lights, leaves from holy trees, and various other decorative items. Even the streets are decorated with lights, and pine trees. They attend morning church, invite friends to dinner and serve roast turkey, desert, and dried fruits, along with wine.
Boxing Day – December 26th
Boxing Day is celebrated the next day of Christmas. On this day, employers distribute money, clothes, food, and other valuable goods to their employees. Whether this traditional practice is still carried out is unknown. In recent years, this day is known for sporting events and the beginning of post-Christmas sales. People go out with their friends and families and enjoy sports.
These are some of the main festivals, celebrations and public holidays in the United Kingdom. Since there are lots of communities from all over the world residing in UK, you can see minimum three to five small or big celebrations of some sorts every month. So, pick the festival you like and plan your trip to UK for 2017.