Fall 2016 Fur and Leather Accessories - Complete Your Look
"Luxury is in each detail." - Hubert de Givenchy
Every fashionista knows details create the bigger picture. You can have a killer dress but without the right shoes and bag, it's just a simple dress. Your accessories make or break your outfit.
How do you take your fall wardrobe to the next level? While you're trying to stave off the cooler temperatures, bring on the accessories. Autumn is the perfect time to play with different bags, shoes, and scarves. Don't let the doldrums of the season throw off your fashion game. Read on to learn more about the hottest fur and leather accessories:
1) Handbags - "Every woman should have a purse of her own."
Although Susan B. Anthony was speaking on women's rights when she famously said this quote, her words apply to women's fashion as well. Whether you have one purse or an entire collection, your bag represents your image. Fortunately, there are a plethora of options that include fur, leather, or both: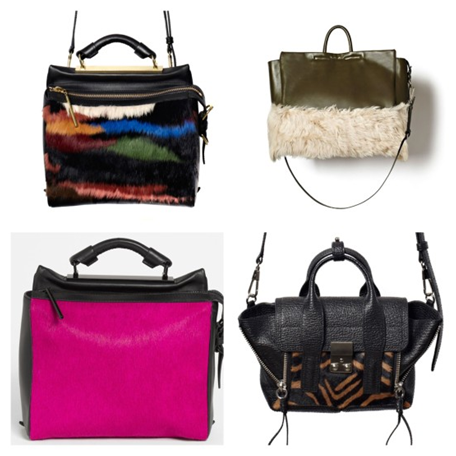 Via FurInsider
Office & Business
Just because it's made of fur, doesn't mean it can't be professional. Even though the digital world means less paper and more tech, women still love their work totes and satchels. Designers like Tory Burch love to work furs into work bags as an unexpected but luxurious standout. Leather is also a classic business material; you can never go wrong with a sleek leather tote.
Fun Night Out
If you need a handbag but don't want to be weighed down with too much size, invest in a stylish clutch. They may be small, but clutches pack a powerful fashion punch: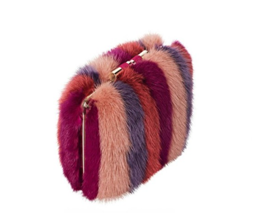 Via FurInsider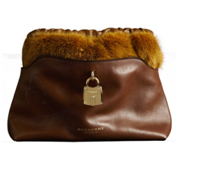 Via FurInsider
You can go for traditional hues with this tan fur and leather clutch from Burberry for a classic fall outfit. If your wardrobe is more daring, get inspired from the rainbow theme of Brian Atwood's whimsical colors. This burst of color will add a pop of "wow" if you're wearing a monochromatic outfit.
2) Shoes - "So many shoes and only two feet."
The next piece in a woman's fashion arsenal is the shoes. Your footwear is one of the first things a person notices about your appearance. Shoe trends this season cross the entire spectrum from regal and sleek to playful and spunky: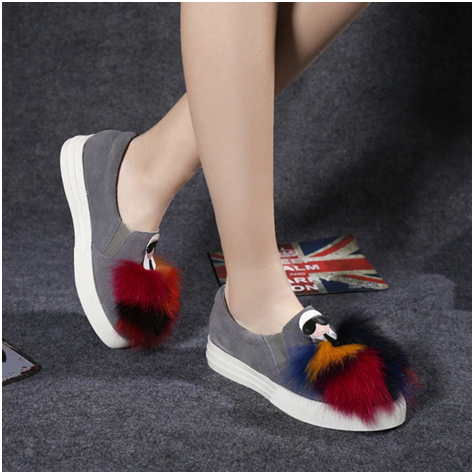 Via FurInsider
Comfortable with a Twist
Sneakers were a surprising trend among designers this season, mixing causal with dressy. This fun pair from the Fendi fall 2016 collection adds unexpected flair with dyed fur. Wear shoes like these when you want to add a fun twist to a otherwise causal outfit.
Classy Monochromatic Heels
The Sonia Rykiel fall collection used fur as the focal point. If you want to add some texture to your outfit, shop for shoes with a noticeable fur or leather trim. Shoes with these unique ornaments will make an impact on your outfit for an event or a night out.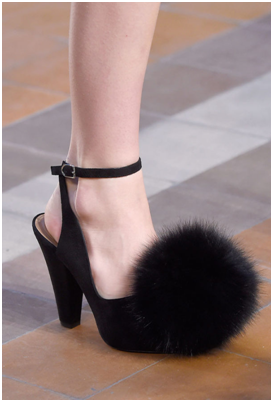 Via FurInsider
3) Scarves and Stoles - "I see bold accessories as a woman's armor."
These wise words are from designer and style icon Rachel Zoe, who knows the how important finishing touches are to a woman's outfit. A fur scarf or stole is the perfect way to complete your fall outfit, keeping you warm and fashionable at the same time: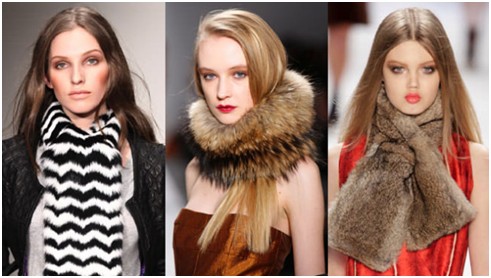 Via FurInsider
Natural and Warm Hues
These delectable scarves will get you noticed any event, without the chance of clashing with your outfit and coat or jacket. Fur scarves are especially popular in Europe, where fashion lovers throw on this trendy item for instant class.
Bold Colors and Jewels
Get inspired from French fashion house Lanvin and step out in enchanting and vibrant shades of fur for fall. Add a statement necklace and a belt to complete your fearless ensemble: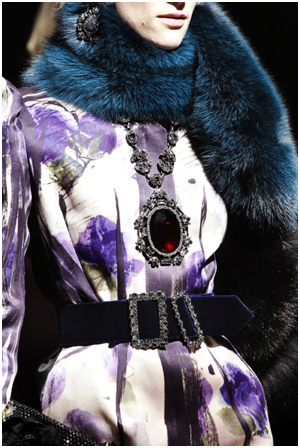 The success of your outfit is in the details. Classic movie stars remembered this basic, but essential rule. Audrey Hepburn wore pearls, Elizabeth Taylor had diamonds.
Now you have fur and leather accessories. Be creative and explore different combinations of bags, shoes, and scarves for your own unique look.