Fabrics and Materials for Travel Bags and Handbags for Women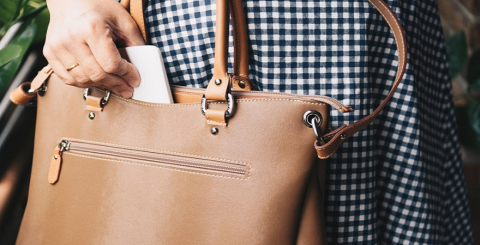 There are various materials and fabric that bags are made of. They are based upon the functionality of the bags and the purpose they will be used for. The most luxurious bags are considered to be real leather ones, that may come from animals such as crocodiles, snakes and cows. 
Although, with stringent animal abuse regulations in place, these products should be in much less circulation. Besides leather, there are plenty of fabrics that may be used to create works of art for everyday use as well as for parties and special occasions. 
Leather
This is one of the oldest known material known to mankind, and the hide of animals has been repurposed for centuries for their use in clothes, bags, and shoes. As mentioned earlier, strict rules and regulations for animal rights and protection laws for all animals, has only made leather bags more expensive. There are twenty-four types of real leathers from a variety of animals, although they should be avoided so that animals are not killed for our pleasure. 
Cotton canvas
This type of fabric is used for a variety of designs. The fabric is thick, uneven, and rough, and can be used in all types of bags, as the thick fabric can hold stuff really well. Bags made from cotton canvas material are relatively affordable to buy. 
These fabric bags are easy to clean and maintain, as they may be washed when dirty, making them durable and lasting for years with proper care. Also, these bags are usually lightweight and sometimes water repellent or water-resistant, depending on the type of coatings on the canvas. The coating also ensures that the fabric is not easily damaged by spillage and liquids otherwise. 
Nylon
Nylon is another popular material for bags. These are not easily damaged by wear and tear and can be intensively used every day. There are variations in the types of nylon available for different types of bags.
Nylon Packcloth
The material is smooth and shiny, giving a nice finish to the bag. This is a popular choice, many people prefer high-end nylon bags. 
Ripstop nylon
The material is lightweight and extremely durable, making it an excellent choice for different types of bags. The best way to identify it is through the grid pattern of the fabric. 
Ballistic nylon
This type of nylon is used for travel bags and soft side luggage, due to the thickness and resilience of the fabric. This material is durable and easy to clean for everyday use.
Cordura
Cordura is a durable and thickly woven material that is fantastic for bags due to them being abrasion and puncture resistant as well as water repellent.
Denim
Denim bags are becoming a trend. The material was originally used for workers' clothes and jeans. Durable, washable and strong, it is a great bag for regular use. 
Straw
One of the oldest materials to weave a bag from. Straw bags are resilient and can be used for various purposes. Most commonly used for groceries baskets and tote bags online, this has the possibility to take on various designs and embroidery for an enhanced and polished look. 
Polyutherane (PU) synthetics
This material is known as vegan leather is produced from plastic, and have a similar texture and the look of the leather. The material is soft to touch and durable. This material can be substituted for all types of leather in bags and is an affordable option due to low production costs. 
Cost of bags
The prices of handbags for women are dependent on the material used to produce it. Leather is definitely the most expensive option and high-grade leather that has not been buffed and sanded is extremely expensive. Many top range designers are still actively using leather as a material, although there are designers who have decided to take the compassionate option of faux leather to ensure that no animals suffer for our benefit. 
There are various other materials that may be used to produce bags that are exceptional in quality and design that will last for years. Different materials will have specific care instructions, for the best maintenance of the fabric or materials. Bags are essential for our everyday lifestyle and durability, practicality, and costs are the main factors influencing this decision before the purchase.