The Evolution of Custom T-Shirts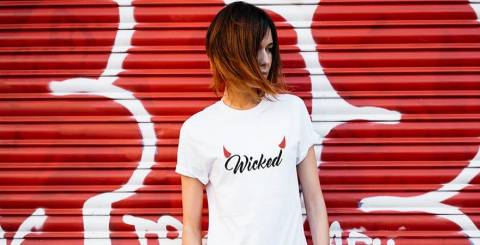 https://www.facebook.com/baefikre
Existing in a huge number of designs, colours & patterns, t-shirts have invaded our wardrobes. It won't be an exaggeration to say that we literally have a t-shirt for everyone! Not that people wear it as a style statement, they have also become a medium through which we can express our individuality!
Interestingly, this wasn't the case or the thought behind the invention of t-shirts in the first place. While on one hand, t-shirts have existed for more than a century, they have actually travelled a long way to the position that they now enjoy i.e. of the most worn & preferred garment in the present times.
T-shirts for men were actually invented as a piece of undergarment to be worn under the military uniforms or suits during the Second World War. However the soldiers or the sailors started wearing these as stand-alone pieces of upper garments with a pair of trouser when off duty or during a hot day. This highlighted the comfort of these and eventually t-shirts started gaining popularity post World War 2. The cinema played a very vital role in popularising t-shirts amongst the masses.
It was in the year 1939, when the famous movie: The Wizard of Oz was released which marked the appearance of graphic t-shirts onscreen. There has been no turning back for these since then. However it wasn't until the release of the movie called A Streetcar Named Desire, starring Marlon Brando that it became a fashionable piece of clothing. It can be said that t-shirts somewhere owe their popularity to this veteran actor who was brave enough to flaunt out this piece of undergarment as a mainstream piece of clothing.
Since then, there has been no turning back for t-shirts. In the 1960s, they became a medium of self-expression & it was only then that the craze for printed t-shirts started. Somewhere this is from where the current form of t-shirts gets their inspiration. They have now become a representative of pop-culture, a medium through which people can express their preferences & opinions, be it political or the normal ones.
Their popularity can also be judged by the fact that they are so easily available these days. The markets online & offline are actually flooding with designs & prints that are unique in every sense. You can find the craziest of custom t-shirts online which will suite your every mood. Music, food, travels or cosmetics, it doesn't matter what you are into, the world of t-shirts has got something for all. All you need to do is explore & keep on exploring for the world of t-shirts keeps on coming up with new designs & prints every day.
Especially when it comes to a country like India, who loves to shop and is very expressive, t-shirts are anyway a perfect choice for them! This is definitely one of the contributing factors which work in their favour, making them a favourite among the masses. Other factors which work in their favour are namely the comfort & the easy fabrics. T-shirts are not just easy to wear but also have this unique quality that they can be wore in n number of ways, suiting each & every occasion.
Now that we have briefly taken you through the journey of t-shirts over the ages, we can also say that the world of t-shirts is immense & you should have as many of these possible, for this would ensure that your style quotient is always on point! The availability & exclusivity of custom t-shirts online in India is so huge that one can actually get lost! The key to finding your perfect t-shirt is just to never settle on one. One needs to keep on exploring & keep on trying new t-shirts, for they are the future of fashion. They are here to stay for long and for good!