Every Zermatt Accommodation Is Convenient To Something You Want To Do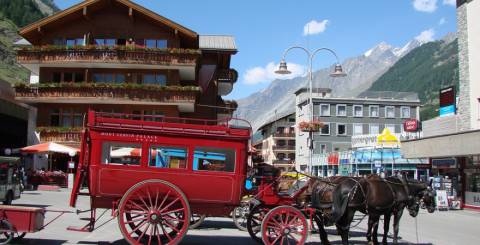 https://pixabay.com/en/carriage-coach-mountains-62238/
One thing you can say about every Zermatt accommodation, they aren't clustered together. Instead, they are spread all around the village. There are some that right along Bahnhofstrasse, the main shopping street and there are some that are hidden away in the mountains. There are some that are just beyond the river while others are scattered around the far reaches of the village.
You will find 3 ski lift stations that will give you access to various parts of the mountain. Next door to the main railway station is the Gornergrat railway and just beyond the river is the Sunnegga funicular. And then there is the Furi gondola which is just over half a mile upriver. You can walk with ease from most Zermatt accommodations to just about anything you'd want to do, but you'll also have access to buses and taxis, too.
If you're going to Zermatt for skiing, there are several wonderful ski-in/ski-out accommodations, but you'll find they aren't centrally located, so you'll want to take a lift back to the village. There you will find that most of the accommodations here are family owned and ran. There is high priced historic palace type Zermatt accommodations like the Mont Cervin, The Monte Rosa, and the Zermatterhof.  Or for the budget vacationing family, the Beau Site is more affordable and offers an excellent pool for the family to enjoy.
For the church group, company gathering, or a family vacation, there are fun places to stay as well. You'll find a Zermatt accommodation on the mountain that is cozy and traditional like the Silvana at Furi, or the Kulmhotel Gornergrat, or the swish Riffelalp Resort. You'll find ski lifts that look as though they are from a James Bond movie and funicular trains that run through the rock.
Another popular Zermatt accommodation is the Bramble Ski. Here you'll find they have two catered apartments in the upper part of Zermatt and just beyond the gondola station. You can sleep 8 to 12 comfortably and if you book both apartments at the same time, you'll have room for up to 20, a great arrangement for those group outings.
Choosing a self-catering Zermatt accommodation is the best value. You can rent an apartment that is basic and centrally located that sleeps 4 adults for around £700 a week, including school holidays. Or book your Zermatt accommodation at the Tasch, a great option for a tight budget. It is just 10 minutes away by train and the rates are half as much.
If you're looking for a Zermatt accommodation that is as quiet as it is beautiful, the Alpenblick would be the one to book your stay with. Here you'll enjoy a quiet location that is close to the cable car that can get you to the Matterhorn Ski Paradise or you'll be just 5 minutes from Zermatt's center by foot. They offer visitors a sauna and a sanarium as well as fitness facilities with the latest equipment. You'll have free WiFi internet if you need to stay connected to the "real world" and some of the rooms have an awesome view from a private balcony. Enjoy home-style cuisine along with one of the selected wines in the à-la-carte restaurant that is on-site.
Or choose the Hotel Perren Superior, a Zermatt accommodation that was renovated in 2004 that will guarantee you a comfortable pleasant stay. You'll be close to the lively activities that Zermatt has to offer and be conveniently located to all of the must-see destinations of this beautiful village. Your stay at this Zermatt accommodation won't be something you'll soon forget because you'll have more than the comforts you have home such as superior facilities, a fabulous restaurant, laundry service, and an elevator as well as a bar.