The Easy Way to Get the No Makeup Look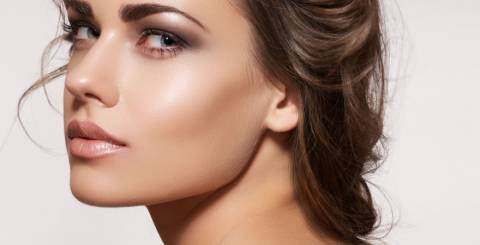 It's a dream of every girl to master the no makeup look. The reason for this is simple. The no makeup look makes us appear natural and effortless despite wearing makeup. It is all about enhancing your features and making your skin appear flawless. All you need to get the no makeup look are the right products and the correct technique. So get rid of your heavy foundations that make your skin appear cakey and follow the steps below to get your no makeup look on point!
Step 1: Exfoliate your face
Every painter, the artist always starts with a blank clean canvas. When you are doing your makeup, your face is no less than a canvas, which is why it should be clean and taken care of. exfoliating your face with a gentle scrub before applying makeup will not only make your makeup 100 times better but will also give your face a healthy glow.
Suggested products: Andalou Naturals - Facial Scrub Clarifying Lemon Sugar, Clean & Clear Morning Burst Detoxifying Facial Scrub 
Step 2: Illuminating serum is a must
If you want to further enhance your skins healthy glow then always use an illuminating facial serum. It will get rid of the dark spots on your skin as well as illuminate your complexion.
Step 3: never forget to moisturize
We cannot stop emphasizing how important moisturizing is for your skin. Before Moisturizing your skin applying makeup will not only hydrate your skin but will also allow for a smoother application of makeup.
Step 4: opt for a radiant foundation
If your aim is to achieve a natural looking face then never use foundations that are extremely matte as they will draw attention to wrinkles and lines. Always use a liquid foundation; it will give a natural glow to your complexion.
Suggested products: Cover Girl Clean Liquid Makeup Foundation, Maybelline New York Dream Liquid Mousse Foundation
Step 5: Conceal your imperfections
Always use a lightweight concealer for concealing imperfections on the skin for a more natural looking flawless complexion.  The idea is to conceal any blemishes or discolorations without making it obvious.
Step 6: blush your cheeks
What's a natural looking makeup look without rosy colored cheeks? Using a sheer blush on your cheeks will give your skin a more youthful appearance. Instead of using powder-based blushes opt for a cream formula instead and apply on the apples of your cheek.
Step 7: use a bronzer
Even though contouring might not suit any makeup look but a bronzer will do the job right. Use the bronzer on your cheekbones, temples, and jawline and warm your skin by giving it a sun-kissed look.
Step 8: give your skin a slight highlight
Glitter covered and super shimmery highlights on your cheek will not give you a no-makeup look but a subtle sheen highlight that isn't glitter will brighten your face. Use the highlighter around the inner corners of your eyes and above your cheekbones and you are good to go onto the next step.
Step 9: don't eliminate the eyeliner
A bold line above the lids will not look natural and will destroy the no-makeup look but draw a sleek thin line along the lashes will make your eyelashes look lush and thick.
Step 10: curl those lashes
Curling your lashes can really boost up your look and no one can tell whether you've used a curler or you are naturally blessed.
Step 11: coat with a mascara
Mascara is the only product that you can use generously while going for a no-makeup look. A single coat should be enough but you can go for 2 coats, remember never to go overboard as you don't want to make your lashes look dramatic.
Step 12: eyebrows
Make sure that your eyebrows are groomed neatly. Use a spoolie to brush out your eyebrows and fill the spots for a fuller look.
Step 13: lip liners and lip gloss
Don't opt for dramatic shades like shocking pink or bright red; instead, stick with colors closer to the natural color of your lips. Line your lips and fill with subtle color. Finish off with a sheer coat of lip gloss. 
Step 14: use a setting spray
Use setting spray to make your makeup stay throughout the day.
You are all set to go!