Common Myths About Rattan Garden Furniture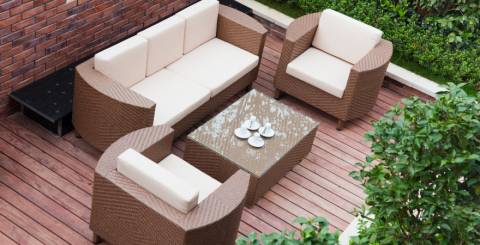 There is no denying the popularity of rattan garden furniture in the modern-day outdoor and landscaping market. A perennial favourite among home and garden owners for its versatility, durability and weather resistance, this material continues to be a common sight in gardens, patios, conservatories, porches, verandas and even balconies all across the western world.
Yet as popular as it is, and as well as it continues to sell the world over, there are still a few lingering myths about rattan and rattan garden furniture which have somehow persisted to this day. Some of these are easier to debunk than others, and this article tackles a few of the most easily disproven ones.
It Takes Up Room
One of the most persistent myths about rattan garden furniture is that a home-owner looking to add it to his or her garden will need a considerable amount of room. Unlike other myths about this material, there is an element of truth to this one, and it is grounded on something tangible; however, it cannot be considered entirely accurate.
This is because, while many rattan garden furniture items do indeed take up a fair amount of space, especially in the case of full sets, just as many are actually designed to fit into narrower spaces. Rattan furniture designers know not all of their customers will have unlimited space available in their gardens or outdoor areas, and design some of the items in their lines in such a way as to account for that fact. Apartment-dwellers or those with smaller gardens or patios will almost certainly find a variety of lounging chairs or smaller sofas in the catalogue for any rattan garden furniture manufacturer.
It Is Expensive
Another common criticism lobbed at rattan garden furniture is that it is expensive. Once again, however, this is not an entirely accurate statement. While some of the upper-end sets can indeed be expensive, for reasons ranging from design to materials to brand name, there are a plethora of smaller companies offering their rattan items at a far more affordable price.
Customers on a budget or lower on funds need therefore not think that they will not ever be able to afford any rattan garden furniture of their own; they will only have to do a little shopping around to discover several options on the market likely to fit their budget.
It Damages
The myth that rattan garden furniture damages easily is not a myth per se, at least not if the rattan market is analysed as a whole.  On the contrary, the statement can be considered true if referring to natural rattan, which can and will fray or crack if not cared for properly, and which has very little weather resistance. It only becomes a myth when it is applied to synthetic rattan, the most common and widespread type of rattan garden furniture on the market.
Indeed, synthetic rattan is created using a polyethylene alloy, especially designed to make the material damage- and weather-resistant. The intent behind the creation of this material was, precisely, to address and correct some of the main problems with natural rattan garden furniture, so it stands to reason that the defects the natural variant presents will not be present on the synthetic one. Owners of a synthetic rattan garden furniture set can therefore rest easy knowing any damage their furniture may incur from either the elements or lack of maintenance will be negligible.
These are only some of the still widely prevalent myths about rattan as a material, and rattan garden furniture specifically. There are, of course, others which could be addressed, but these are the most significant ones and the ones keeping the most people from purchasing a rattan garden furniture set, and therefore take precedence over all the others when it comes to debunking.