Check Out These 4 Impressive Features to Create a Photography App like Storyboard
Photography apps are quite popular more than ever among Smartphone users. This is due to the fact that photo applications do embrace the features like - tonal richness, image quality and clarity at the same time. You can also achieve this kind of quality in videos. All you need to do is to install one of the best photo apps - Storyboard on your device. 
Let us check out the statistics in below image. The App Store is more likely to achieve over 5 million apps in the year by 2020 as it is not showing any sign of slowing down.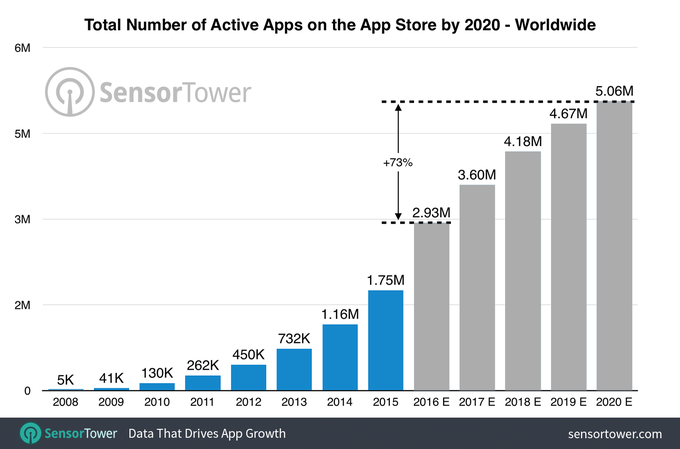 Credit: https://sensortower.com/
As we are talking about photography apps, then how could we forget to mention about the newly launched three photography apps by Google? 
Google has introduced trio apps with tested more experimental features in order to check how users are going to respond to these. Right now, these three apps are available in both iOS and Android. 
Withal, Google came up with a series of photography appsperiments, which are usable and useful mobile photography experience. Well, the basic idea behind these photography apps was to convert short videos into cinemagraphs, and time lapses by using technology like experimental stabilization.
The three photography apps from Google are Storyboard, Selfissimo!, and Scrubbies. And, they rely on technologies such as Object Recognition, Person Segmentation, Styliation algorithm, Efficient Image encoding, and decoding technologies. 
In order to keep these essentials in mind, we've compiled some impressive features to get an idea of a photography app like Storyboard. Let us check out what's inside the box?
1.Convert Videos into a Comic Book
The app, Storyboard converts a video into the single page comic layouts on the device. This app allows you to transform photos into images that are inspired by art as it includes comic book art. 
This idea of the application is something that grew with the popular AI-powered editing app, Prisma. After gaining so much popularity among the audience, Prisma App still ranks in one of the top 150 photo and video categories on the App Store. 
Nevertheless, Storyboard App is based on a bit different idea. As it converts your entire video into a comic book, this app provides a number of frames where you can choose from. 
After Prisma, we can say that Storyboard will become one of the favorite apps among youngsters.
Credit:www.techcrunch.com
2. Art-inspired Photo Frames 
Storyboard has come up with the strong competition for those who are photo-inspired applications, which are available in the App Store. You may be wondering that what feature makes Storyboard unique? Well, the Storyboard app does not merely convert the videos into a comic book, but it automatically selects interesting and art-inspired photo frames for you. Furthermore, you can choose one out of six visual styles, which are provided by Storyboard app.
3. No Internet Connection Required
What if your app can work offline? This is one of the most pivotal features, which you can consider while developing a photography application. Storyboard works when no internet connection is there, or we can say that it works offline.
In addition, if you already have a clone app like Prisma, then you may know the fact that it only works when mobile data is enabled. Therefore, you can think of to add this kind of feature to your existing photo video app. It would also help users to make the most of the app when they are offline.
4. Simple and Minimalistic Interface with a Single Tap
Have you ever found out any photo app that could work with a single button? If not, Storyboard is an example of photo app. In this app, the user can open the video gallery and select videos with a single tap. This is a unique feature that you need to consider. Also, videos are loaded easily, regardless of format & size in Storyboard. In short, it is compatible with every video format.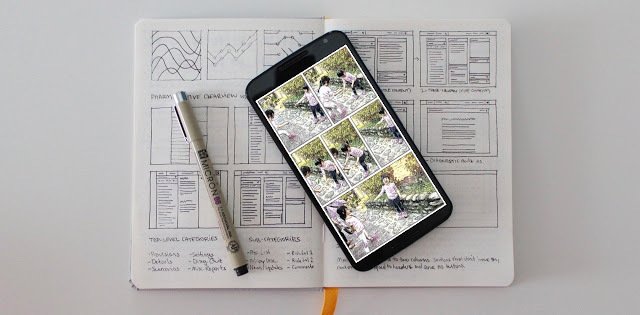 To load videos, you can consider one of the simplest and minimalistic interfaces, which is a single tap like Storyboard, for your next or existing photo app. When it comes to access the main menu in the picture app, the 'single button' feature provides an easy-to-navigate option and, this is something that a maximum number of users expect. 
If you are looking for a solution of the size of any photography app, then consider Storyboard. It comes in a compact size as it requires 85 MB of space to install. It is believed that users are more likely to show their interest in those kinds of apps, which are not too large, in general.
So What Are You Planning For? 
It seems like the craze of photography apps is never going to an end as time passes by. Since there are numerous picture apps available on Google Play Store, but people still like to explore more.
As Storyboard has come up with unusual features like converting a video into a complete comic book, it can work offline too. Well, you can also include all these above-mentioned features in your next photo like application.
To get more photo app ideas, browse through nine out of the top 200 photo applications in the photo & video category, which are developed by us. Want to share your photo app idea? Having a team of experienced Android app developers, who can help you with an optimal solution.