Celebrity Fur Inspiration for Autumn: Steal the Look
Dressing like Hollywood's hottest may seem like a right reserved only for the rich and famous, but you can dress like a movie star too! Wearing fur is a commanding way to make a statement; a statement you can recreate for home, the office, or a night out on the town.
Fur is more versatile than you think. From a full-length fur coat to a playful fur clutch, there are many ways to incorporate fur into your wardrobe. These are not your grandma's furs either; fur designers create innovative and stylish patterns every day.  
Check out these three ways you can rock fur like a star and get inspired to look amazing despite the chilly fall temperatures.
1. Bold Colors and Patterns - Beyonce

Via Welovefur.com
All hail Queen Bey. The Queen of Music is also a Queen of Style. Beyonce always stuns. Whether she is on the red carpet or in a daring music video, she always brings her fashion A-game. If you want to channel your inner diva, be prepared to turn heads and have all eyes on you. Beyonce loves exotic patterns in full-length silhouettes making her the perfect style inspiration for big celebrations or an exhilarating night out.
If your fur coat is making a bold statement, feel free to stay with a more neutral color scheme for the rest of your outfit.

Via infdaily.com
A daring coat with a monochromatic outfit will turn heads at any event or party.  Don't forget to accessories. Classic Beyonce extras are a killer pair of sunglasses and sky-high heels.
2. Classic and Timeless Design - Kate Moss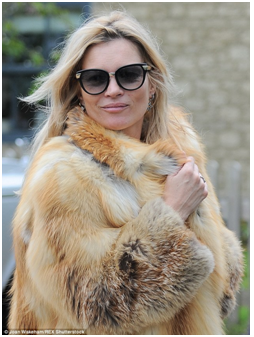 Via Dailymail.co.uk 
Born in London, supermodel Kate Moss is a style icon on the runway and in film. She borrows from both sides of the pond for style inspiration. Dress like Kate by wearing classic prints and neutral colors. Kate loves furs in warm, natural hues. Bring out your natural beauty with a light foundation and blush to tie the look together.
This fur look is perfect for the office or daytime. Pair with a shapely shift dress and slick pumps for an instantly model chic look.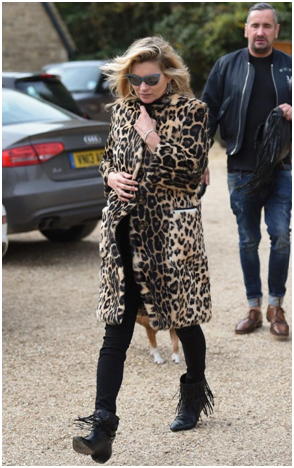 Via Telegraph UK
Kate Moss is also a style chameleon. One day the paparazzi might find her in a classic fur jacket but the next you can find her in an eye-catching and bold coat. Another trend-turned-fashion-standard from Kate is using animal print as a neutral. Wear an animal print, like this leopard fur coat, instead of a plain brown or black coat to warm up your fall look. Keep the rest of your outfit simple and let your fashion-forward coat make a statement.
3. Easy to Wear Fur - Jayden Smith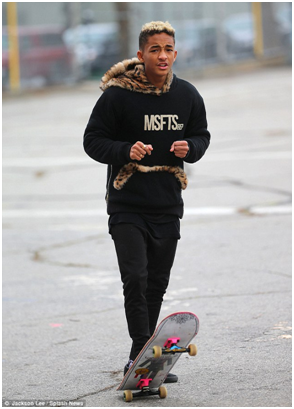 Via Daily Mail
Fur is no longer a fabric just for grown-ups. Millennials are finding unique ways to bring fur fashion into street style. Jayden Smith, an accomplished actor, and rapper at only 18 years old, proves fur is a versatile fabric. If an entire fur coat or jacket feels overwhelming, try a fur lined or trimmed piece. They still provide a touch of class without trying too hard. Jayden takes a causal approach to fur with jeans and a fur-lined jumper. Other fur accessories you might want to try for autumn include hats, headbands, and handbags. Fur accessories are an easy way to look trendy and to personalize your style to your tastes.
Take a fur handbag with you while you run to the grocery store or wear an entire fur ensemble for a fun night out. Get inspiration from your favorite celebs and get creative in fall furs.