Budget-Friendly Modular Kitchen Design Ideas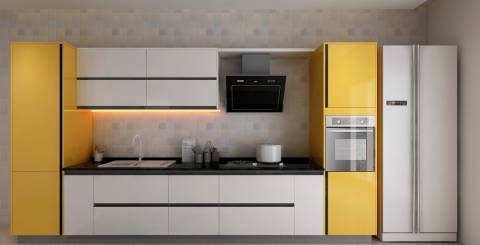 When you are designing your home, one of the biggest expense that you have to face is designing the kitchen. In the current market place, having a modular kitchen can cost you a lot. And therefore, you have to look for the budget-friendly ideas to have the best style of the kitchen at your home. Some smart ideas can help you to design something in a cheap, easy and aesthetical way. Let us see them one by one.
Modular kitchen is basically inspired with the Italian and French designs. It is minimalistic, subtle and functional in every sense. And the best part is that most of the Indian are following it. So while designing your kitchen in the modular design, try to keep the following points in mind. It will help you to style in your budget. So here are some more budget-friendly modular kitchen design ideas that will make your life easier.
Modern Design and thoughts about it
There are so many options for modern kitchen designs, but for that, you have to play with space and tranquillity. You have to combine some good and not so expensive materials like wood, synthetic materials and more. Most importantly, the steel handles on wooden cabinets can also help you to save money. Maintain an open floor plan and enjoy it.
Enchanting Symmetry of white
The rectangular design with the help of cabinet and slab can maintain the modern design. It will give the illusion of an expensive finish and looks perfect in a modular kitchen. And the best part is that a smart choice will reduce your cost by one third. And for that, you can choose cost-effective fibreboard with plastic coating.
Wood and glass combination
The light brown and blue kitchen gives a bright touch to your room and it makes anyone fall in love. So to play with that theme, combine stained wood with blue tiles. You can also add class to your beautiful kitchen by adding stained doors and glasswork. It gives more of a Scandinavian feel to your kitchen. As kitchen is an important part to our home decoration it must be decorated well and in an effective way. We must go for modular kitchen as it is hassle free and doesn't disturbs your other carpentry work at your site.
Granite Counter and Rustic Cabinets
Do you know you can have smart cabinets and play with its modern vibes? Yes! You can take the reclaimed wood and use them to build cabinets. To complement it, use granite slabs. The unpainted wood will give a rustic effect and make your kitchen look innovative.
Painted Kitchen cabinet with granite backsplash
When you are planning to build a smart kitchen, make sure to make some smart choices. You can buy ordinary cabinets and paint them in innovative colours. Also, to maintain a balance, you can use simple granite backsplash in it. It will give a contrasting and modern look in your budget.
Laminated cabinets and stone backsplash
The laminated cabinets reduce the cost of polish and paint. It makes them look shiny and classy. You can choose any type of lamination and play with it. Also, the stoned back-splash will help your walls look creative. While following this theme, try to maintain a balance between colour and textures.
Whenever you want to get a modular kitchen in your budget, make sure to plan everything in advance, do some research, buy yourself from furniture shops, consider going green and replace the old things with some customization. Having a budget can always help you out. So be creative and change your ideas into reality.