Beyond The Little Black Dress: 7 Essentials For Every Woman's Closet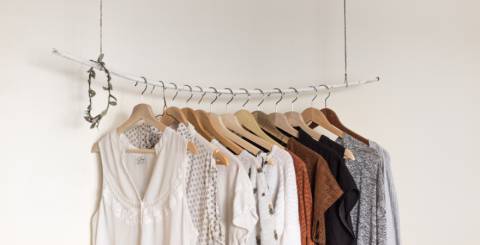 You've undoubtedly read some wardrobe-suggestion articles. This down-to-earth list includes a few of the classics, but you won't find black pumps or the little, black dress here. Seven items rise to the top of the essential wardrobe list for busy women who don't want to sacrifice comfort for style. These practical picks all bear the unique combination of being classic, versatile and comfortable. Whatever your personal style, body size or budget, these gems deserve top billing in your closet.
Black Pants
A pair of comfortable black trousers with a bit of stretch can round out almost any outfit. Neutral and versatile, black works for the office or more casual wear. Some nice leggings with a sturdy fabric are also a great casual choice in this category.
Dark-Wash Denim
It doesn't hurt to have a couple of pairs of denim jeans in your closet. The key is the dark wash and a little stretch. When your jeans don't fit, it's uncomfortable. A slight stretch component will make for a great fit, allow for a little weight fluctuation and be comfortable all day. Skinny or boot-cut fits are stylish, and the dark wash puts them in the running for the office—and it doesn't have to be casual Friday.
Comfortable Sneakers
Whether you like a vintage Converse or a classic pair of white leather sneakers, you are all set as long as they are comfortable. Sensible kicks are gaining acceptance for office wear. No more changing into your pumps when you get to work. Just leave those comfy sneakers on all day.
White Button-Down
This essential may be the most versatile item in your closet. It can be paired with almost anything, layered under or over, tucked in or out, buttoned or not, crisp and pressed or sleeves rolled up. If you love this item, you might like two—one tailored, shorter version for the office or out to dinner and a larger, more casual shirt you can throw at any time.
Neutral Blazer or Long Sweater
When there's a chill in the air, and you're trying to get out of the house, grab that sweater that goes with everything. The art and science of wardrobe color palette revolve around neutral colors. Tan, navy and gray are neutrals. They unify other colors and are a nice background for accessories. A tailored navy blazer with jeans and a colorful scarf, and you're ready to go anywhere. For a flowing, less tailored look, try an asymmetrical-hem sweater with an infinity scarf.
White T-Shirt
It sounds simple, but finding the perfect white tee may require a little effort. You want this staple to be versatile and perfect for almost any outfit. A sturdy shirt, not a flimsy transparent one, is best. With those dark wash jeans, a traditional cut, white V-neck works well. A more feminine rounded-neck tee will be useful with dress pants or a skirt.
Universal Scarf
This essential can make your whole outfit. If you choose well, you will wear it often. A scarf that has your favorite colors and pairs with any neutral will unify and complement your outfit. At least one cool-weather and one warm-weather scarf will do fine to spruce up any combination.
Bonus: Signature Item
This is the most fun item in your closet, but only you know what it is. It's the staple or accessory item that your friends picture you in and secretly envy. You are always excited to wear it, no matter how frequently. Maybe it's a flowy, woven wrap or a denim jacket with an antique pin. If you don't have a signature item, you may have fun discovering yours.
Each of the wardrobe items that made this list is versatile and easy to grab when you don't know what to wear. Fabric with a slight stretch wins out for comfort and time-tested fit superiority. Neutral colors allow you to introduce some favorite pops of color with accessories and jewelry. When you've collected your staple items, make sure they are upfront and easy to see in your closet. Have fun creating outfits!