Best Tips How to Clean Suede Shoes-DIY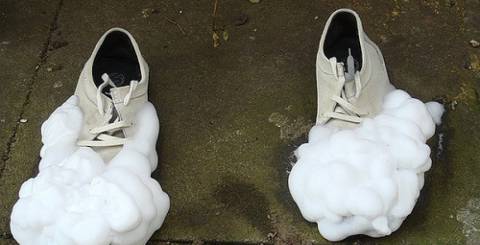 https://www.howtoclean.info/best-tips-to-clean-suede-shoes/
No matter how much you pay for a pair of suede shoes, the entire amount goes waste if you don't give them proper care and don't. Suede is completely different from the other materials so you ought to learn how to clean suede. There are many people who don't know how to clean suede shoes and ultimately ruining this expensive purchase. In markets, there is suede cleaner available to remove stains, dirt, or scuffs instantly. If you have a pair of suede shoes then you should learn the stunning ways of cleaning suede shoes. While clean suede shoes, try to use a suede shoe cleaner as it helps to clean the suede fabric immediately. There are a few of the following tricky steps that help how to clean suede boots within a no time. Keep following to know about how to clean suede shoes with household items. These tips are much easier than you think.
Rubbing:
First of all, begin with rubbing the surface of suede shoes with a washcloth to restore it. (Use the dry cloth). It will help you to remove all the dirt or scuffs immediately.
Eraser:
Try to use a suede eraser that comes with a suede cleaning kit. You can also use a pencil eraser for rubbing; try to rub gently the area that is stained. By doing this you will easily lift all the dirt or debris deeply embedded in the surface of suede.
Brush:
Begin brushing the surface of your suede shoes with a metal suede brush. Try to brush the suede surface in a circular motion, as this will help you to remove all the scuff marks or dirt. Also maintained the suede surface that previously roughened by the erasing.
Spray:
Finally, apply a coat of suede protector and spray the entire surface of your cleaned suede shoes.
If you want to clean oil, water or stubborn stains from your suede shoes then dip a nailbrush in warm water and start gently applying it over the stain. Take a dry cloth and start to soak excess water. Keep in mind that you ought to place shoetrees in your suede shoes; it helps to retain your suede shoes shape and form, and also allow them to dry overnight. When they are fully dry then brushing the surface with a suede brush and ultimately spray a coat of suede protector.
If your suede shoes still left the salt marks from water then take a small amount of white vinegar. The white vinegar is being used as a suede cleaner. The first few times the smell of vinegar might be quite prominent, but it will fade after a few times.
Top Tip
Sometimes dry stains on suede shoes can be removed with just a simple pencil eraser- Try to gently rub at the affected spot, it helps to lift off the offending mark. A suede material is quite softer and vulnerable than ordinary leather. It is not too easy to clean, there are need to adopt a trickier or exact method that helps how to take care of suede shoes.
Water Stains
If you receive water onto your own men's heeled shoes also it melts and leaves a marker, an alternative that has been proven to work will be always to pack your shoes with paper (therefore that they do not lose their shape in this technique ), have a wet rag and rub on water into the entirety of one's own shoe. Then let's dry in the color and brush them to really make the suede glow uniform.
Hopefully, those procedures have helped you personally, I've tried to add everything I have seen/researched/used prior to making this kind of broader duvet-cleaning manual.