7 Questions Answered About Law Office Management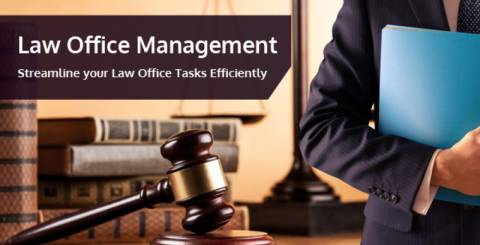 Are you in a dilemma to streamline your law office management process and stay ahead of your competitors? Well, not to worry! We've outlined the answers for the most common questions that strike the mind of lawyers:
1. What takes law firms to manage all their activities efficiently?
Law firms across the globe are trying hard to remain productive and increase their profitability. Lawyers are often busy bees and managing their administrative tasks deviates their focus from core activities like handling clients, important dates, and deadlines etc. The lawyer usually seeks ways to be more productive and focused on what they are best at.
There is a solution that is being used by so many lawyers these days, which is outsourcing law firm management services . They can assist you to stay organized by handling all the non-core activities, saving you time and money.
2. What is the secret behind running a successful law firm?
Law office management is all about organizing and administering the activities that normally occur in daily routine. Efficient law office management includes time management, organizing the paperwork and workspace, managing multiple cases, etc. You can consider the following steps to maintain efficiency in your workflow:
Create a clear business strategy
Operate your business legally
Employee management
Efficiently manage documents
Determine how you will make a profit
Keep your finances in order
Adopt new technology
3. What can law firms do to minimize data breach risk?
Data breach is a threat to the law firm and to minimize this risk they consider the following steps:
Choose the data center with strict security measures.
Keep information confidential.
Backup your data.
Set up two-factor authentication for online accounts.
Use a secure Wi-Fi connection.
Keep emails safe.
Encrypt your files.
4. Which law office management software do law firms use?
Legal practice software is intended to unburden lawyers from doing administrative work and other non-core business activities so that they can concentrate on their clients, cases and important deadlines. There is a lot of law practice management software for lawyers to choose.
Rocket matters
Time matters
AbacusLaw
Clio
PracticePanther
PCLaw
ProLaw
MyCase
5. What are the most common mistakes made by lawyers and law firms?
Lawyers need to understand how even a simple error can affect their reputation and clients. There are so many mistakes that occur at the firm and lawyers need to avoid them such as:
Avoid opening any anonymous online attachment from unknown senders.
Do not invest in new systems without considering security like firewall, antivirus protection, etc.
Avoid devices like tablets and phones to store clients' data as they are not a reliable source.
Do not consider the technology only from the lawyer point of view.
Do not compromise on internet speed and quality.
6. What are the productivity challenges faced by law firms?
Legal business is just like other businesses, reacting to changing market conditions within the industry, getting the most out of new opportunities and overcoming obstacles to stay ahead in the market is what they need to do. Lets' take a look at the major challenges faced by lawyers:
Acquiring new clients.
Spending too much time on administrative tasks.
The increasing complexity of technology.
Controlling cost.
Fulfilling clients expectations at a lesser price.
7. How law firms are benefited by outsourcing legal services?
Law firms can enjoy the following benefits by outsourcing legal services:
You have access to qualified staff, who is able to perform all the assigned tasks efficiently.
When a law firm outsources its work to an outside country, they can get tax deductions through a foreign tax credit.
In cases of extreme workload, outsourcing firms can help in streamlining the non-core activities that allow you to gain a competitive edge in the market.
Outsourcing offers you cost-saving benefits as you don't have to hire an in-house team, train them and invest in infrastructure.