7 Pros Tips To Using Clean Loose Setting Powder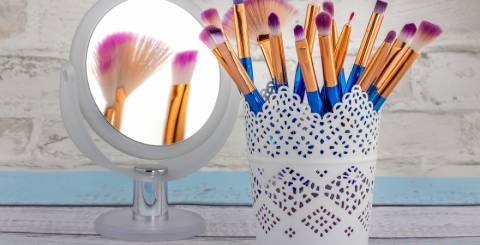 If your budget is a little strained, you might want to opt for multi-purpose beauty products. Such is the case with loose powder. Loose powder is considered a makeup staple and is the key to neat and long-lasting makeup. Although it is available in various shades, the most common shade is "translucent." Learning the art of perfectly applying this type of powder takes some time. In the beginning, you might notice that you end up with more powder on your clothes than on your face. This is normal before you learn the ropes.
In this post, we discuss six pro tips that will help you wear your clean loose setting powder like a pro.
1. Setting your foundation
The final step of any makeup routine is powder application. Unlike pressed powders, the loose setting powder helps seal the moisture contained in your foundation, thus making your makeup last longer. People with oily skin find this type of powder extremely helpful as it controls oil and shine. It also prevents makeup runoff or transfer throughout the day.
2. Eyeshadow blending
Blending eyeshadows is one of the most frustrating items when applying makeup, particularly if you are using dark shades. When faced with this challenge, simply take a blending brush and dab some loose powder on it. Brush it lightly over the color to tone down its intensity. This will effectively make the transition between the different shades you are using smoother.
3. Plump the lashes
You can use a loose setting powder to give some volume to your eyelashes. Before applying your mascara, dab a little loose powder on your lashes. Alternate between loose powder and mascara until you achieve your desired volume. The first mascara coat should be wet so that the powder sticks to it.
4. Baking
Baking normally follows any contouring and highlighting routine. In baking, the cream product used in these processes is coated by a thick coat of powder to seal in the cream's consistency. When using loose powder for baking, using a wedge sponge to apply generous layers of the powder to the highlighted or contoured area. The combination of cream and powder gives your skin a smooth finish.
5. Fixing any makeup mistakes
We've all had instances where we've applied too much bronzer, blush, or highlighter. In that case, you only need to dab the area with loose powder to tone the makeup down and take some color away. This is better than using a makeup remover, as using the latter would mean redoing your makeup. Besides, makeup remover is bound to leave streaks on your face.
6. Wearing it alone
Let your skin breathe every once in a while by wearing clean loose setting powder alone, especially on good skin days. All you need to do is dust two or three layers of the powder to give it a natural-looking and healthy finish. The powder will also smooth out any wrinkles, lines, and pores. However, it does little to cover up any scars on your face.
Bonus tip
7. Emergency hair-roots touch up
There are times when your hair will turn greasy, and you do not have any styling products. You can use a small amount to de-grease it from the roots. Use a brush for easy application. Once you are done, shake off the excess powder by turning the hair upside down. Doing this helps prevent a chalky appearance.
While setting powder is not the easiest beauty product to apply, it gives your face a better and more natural-looking finish compared to pressed powders. Before using it, make sure you wipe away any excess oil with tissue or blotting paper.