7 Important Things To Bear in Mind While Visiting Turkey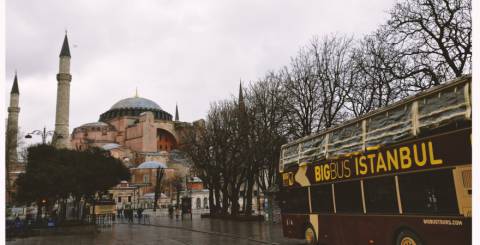 The golden sunrise tinting the soft blue skies in this Middle Eastern country is truly the one to behold. Turkey is a multi-colored canvas, after all. Its history is smeared with the influences from ancient Greeks, Romans, Persians, Byzantines and the Ottomans. So, it stands perfectly balanced between the East and the West.
While there are massive libraries, domed mosques, mosaic museums, 15th century Sultan palaces, and sprawling spice bazaars, on the one hand, there are underground Roman cisterns, pilgrimage chapels, historical Greek temples, exuberant nightlife clubs, and sandy beaches, on the other hand.
Takes the level of excitement up a notch, doesn't it?
Even though the culturally-rich Turkey triggers your spontaneous nerve as it does mine, you simply cannot visit it without some sort of preparation. Traveling demands research. So, let me help you with that by mentioning some of the most important things you'd need to keep in mind while journeying to this gorgeous Middle Eastern country. Check the pointers out below.
Tea and Turkey are Synonymous:
It's true. The locals are avid tea takers. This beverage is a huge part of their day-to-day activities and it is offered as a part of their hospitality. Turkish tea—a blend having a taste of its own—is consumed in these especially curvy glasses with a golden rim. If you're interrupted mid-shopping spree by a local offering you tea, then try not to refuse it because there's a chance that it could offend them. If you really can't take any more cups of tea, then put an inverted spoon on top of the glass and they'll get the stop signal.
Cash is a Safer Option:
Turkey is an economically advanced country, for sure. Majority of its metropolitan cities and towns like Izmir and Istanbul etc. accept cards, if that's your primary method of making monetary transactions. However, other low-key and simpler parts of it take cash only as a means of payment. So, just to be on the safe side, carry a wad of cash on your person to easily use the local transportation and pay the bills of local guesthouses, public bathrooms, and small restaurants. Don't forget to implement the highest form of security measures to keep your money safe.
Greetings are Served Warm:
Not the French way, of course. But, if a Turkish local knows you for more than three days, they'd greet you by lightly kissing you on both cheeks. So, don't get weirded out. It's just a part of their culture, which garners social affinity and communal feelings. However, if you kiss your better half on the mouth while standing in the streets, that'll definitely be frowned upon. Turkish neighborhood is not THAT liberal. Just giving you a heads up here.
Animal Acceptance's on a Great Level:
Usually, when you see a stray cat or a dog in the streets of your State, your first instinct is to call the responsible authorities who'd put that animal in a proper home. However, in Turkey, freely roaming stray cats and dogs on the streets are as normal as the weather itself. You'd literally see them everywhere, in the alleyways, the beaches, outside clubs, or around cafes etc. There's even a documentary called "Kedi" which shows how street cats are an integral part of Istanbul's soul. You can order this documentary using your Spectrum DVR or some such service and get a greater understanding of the Turkish culture before you visit it.
Veggies are on the Menu:
It is often presumed that nearly all of the Middle Eastern cuisine is meat-based, offering no luxurious options to the vegetarians. Well, I beg to differ. There are plenty of veggie dishes, only if you know where to look. For instance, Kuru Fasulya is a famous white bean stew made with a tasty sauce concoction of olive oil, tomatoes, and onions. Dolma is a stuffed zucchini or bell pepper wrap having spicy rice in the middle. Pide is a Turkish variation of pizza, with spinach and cheese mixed with other veggies. The point is that if you're aware of these dishes beforehand, then you can easily find them when you visit Turkey—especially on the Tradesmen restaurants' menus.
Tap Water's a No-No:
What do you do here? Wake up in the middle of the night, take a glass out of the cabinet, fill it with tap water, gulp it down and quench that midnight thirst. Simple. But you can't do this when you visit Turkey. Even though there are filtration systems in place, still it's not advisable to drink water right out of the tap. You can use it to cook food, boil your veggies in or brush your teeth with. Just avoid drinking it. It's a 'hit and miss' sort of an affair.
Traffic is Truly Notorious:
Did you know that around tens of thousands of people lose their lives in traffic accidents on the streets of Turkey? Well, it's a recorded fact (http://www.who.int/violence_injury_prevention/road_traffic/countrywork/t...). That is why you need to be extra careful on the roads if walking is your primary mode of touring around. Pedestrians have it hard. So, when you do happen to visit Turkey, always wait for the traffic lights to bring the vehicles to a standstill and THEN cross the roads.
So, keep these points in mind when you plan your trip to Turkey. They'll surely be of aid to you mid-trip and help you appreciate the diverse culture a little better.