7 Benefits For Choosing Magento 2 Platform To Build Your online E-commerce store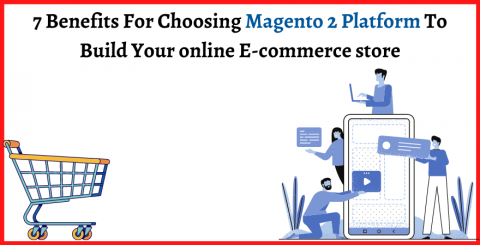 As a business owner or an entrepreneur, you think of building a robust eCommerce store for your business but at last, you end up in the confusion of which platform to choose. Many choices can also trouble you, this line fits in the case of eCommerce store development.
There are a variety of options available for business owners to choose from such as BigCommerce, Shopify, WooCommerce, Magento, and so on. Each of the platforms has its own set of benefits and challenges. Let's find out why choosing Magento 2 for your eCommerce store can be the right decision for your business.
Reasons to Consider Magento 2 Platform To Build Your online Ecommerce Web store
Continuous development
Magento is an open-source eCommerce website building platform that offers a vast range of templates and add-on extensions. Since its inception, it is continuously developing and adding captivating features this is the reason behind its huge popularity.  Being an open-source platform, it has a large community of experienced developers which helps in building user-friendly yet feature-rich websites. 
Customization options
To make your store stand out amongst the competition, you need a unique design and excellent user interface. Magento-2 offers a wide range of themes through which business owners can create their exceptional eCommerce websites. Additionally, their community support and informative blogs help a lot in the Magento website development process.
Speed
To provide your customers outstanding user experience, you need a website that loads fast. If you are using Magento-2 as a platform then you don't need to worry about the loading speed of your website. Magento-2 is equipped with varnish caching which enhances the page loading speed. Hence, a fast-loading website means better customer retention and a high website ranking in Google. 
Scalability
Magento offers robust customization options which are necessary to build a sturdy eCommerce store or website. This is possible due to the PHP-based solutions that give business owners the freedom to scale their websites according to their business needs and goals. If you don't have much technical knowledge then you can hire an experienced Magento store development company that can easily provide you the solution as per your business requirement. 
SEO Friendly
The Magento-2 platform not only allows you to build enchanting eCommerce stores or websites but also allows its optimization. Search engine optimization activity is imperative to enhance your eCommerce store visibility in the market and to attract your potential customers. Using Magento, you can considerably manage page traffic issues, the landing of the page, website indexing, and other related activities smoothly.
Responsive
Customers just love responsive stores and websites, Magento-2 provides you with the same. It offers successful functioning between cross-platform and cross-browser for your eCommerce stores, which makes it stand out amongst its competitors.  To build a responsive and feature-rich eCommerce web store for your business, you can seek the help of an adept Magento store development company. 
Personalized Experience
Magento allows business owners to track their customers' behaviors, purchase patterns, previous purchases, etc. with the help of which they can provide a personalized experience to their potential users. By observing their purchase pattern, business owners can easily use strategies like cross-selling and up-sell hence can serve their customers in a better way. 
Wrapping it Up!!
Now you must have gained clarity about Magento-2 and its enchanting features. We have mentioned all the relevant points that must have implanted a thought in your mind about Magento-2 for your successful eCommerce business. Therefore, don't think too much and start with your Magento eCommerce store development process by hiring an adept Magento development company.