6 Easy & Healthy Salmon Recipes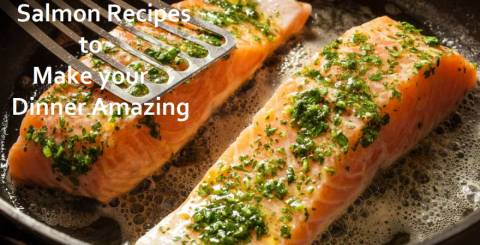 https://www.chowstatic.com/assets/2015/01/31262_RecipeImage_pan_seared_salmon_caper_sauce.jpg
Salmon Pasta Recipe
This salmon pasta recipe with a creamy garlic sauce is an elegant meal the can be prepared in just 20 minutes. No fancy ingredients are used in this recipe but still, you'll get restaurant-like quality results. This recipe tastes like a lot of effort was put in to prepare this recipe, but it's actually very easy, especially when you come back home in the evening after a long day at work. Garlic salmon pasta is a very good option for those who work in offices and have a busy routine.  And you can double or triple the recipe easily if you have guests on weekends, without adding a lot of extra work. So what else could be better?
Smoked Salmon Salad Recipe
This delicious smoked salmon salad recipe is prepared in just 30 minutes. No hard work is required to make this fresh, seasonal dish that is stylish enough for entertaining.
This recipe is no doubt delicious, nutritious and will get a brunch of fans with a healthy dose of beneficial omega-3 fatty acids for brain health and function. As it is prepared quickly it's a perfect salad for a weeknight dinner. The great Lemon Juice, Olive Oil, Wholegrain Mustard, and Red Chilies dressing are what make a salad taste so good. If smoked salmon is not available you can also use grilled or pan-fried instead. 
Salmon Cakes Recipe
Salmon cakes are simply delicious and easy to make and takes only 30 minutes to prepare. These Salmon Cakes are so tasty that they don't even need a sauce. A simple squeeze of lemon or lime does the trick for these fantastic Salmon Cakes.
These salmon cakes are crispy from the outside, with tasty bites of flaked salmon. It's salmon that makes every bite such a treat. These salmon cakes are always finished fast as kids just love them.
This easy salmon cakes recipe uses healthy ingredients which are great for your health. Let's see how to make these salmon cakes step by step
Alfredo Salmon Pasta Recipe
Tossed with flakes of hot smoked salmon here is a creamy Alfredo salmon pasta recipe. Follow the steps to toss the sauce & pasta with some of the pasta cooking water. Using only 1/2 cup of cream makes all the difference to create a luscious creamy sauce!
We made this salmon pasta using dried fettuccine, unsalted butter, shallot, heavy cream, Parmigiano Reggiano, hot smoked salmon fillet, salt, and pepper. And we used Fresh parsley and Parmigiano Reggiano for garnish.
The recipe only needs a total time of 25 minutes and is enough to serve 3.  Try to purchase the salmon which is already smoked, but if you have practiced for that then you don't need to purchase already smoked salmon. Let's see how it is prepared.
Salmon Pasta Recipe with Peas
For a whole family dinner, this Salmon Pasta Recipe with Peas can be prepared in 20 minutes. The kids will also love the fun-shaped pasta and is enough for 4. You will love this pasta recipe, which is healthy, delicious, and full of omega-3. This recipe tastes great with other types of fish such as mackerel and sometimes even with prawns. This is one of the easiest weeknight recipes and fancy enough for a special occasion. Let's see step by step how this pasta with salmon and peas is prepared.
Baked Salmon Salad Recipe
For an excellent spring lunch or quick dinner, Salmon Recipes is one of the best ways to fill your hunger with no time, The refreshingly crunchy baked salmon salad recipe is the best option to start your cooking, especially for those who have busy lifestyles.
The great thing about this salad recipe is that it can be refrigerated in an airtight container for up to 10 days and can be enjoyed later. I'm sure that you will find many recipes here that you will love to try at home. We have a great collection of recipes that can be prepared in no time.
Similar Articles
Find out about the amazing benefits cake delivery services can provide. These include convenience, cakes in a variety of flavors and designs, freshness guarantee, and many more.