5 Tips for Safer Car Travel This Winter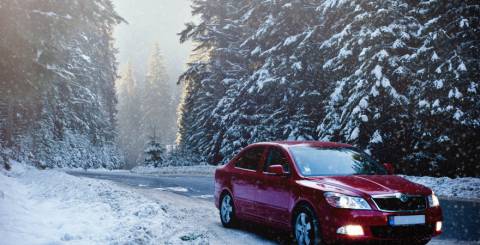 During the winter, the roads are more dangerous than ever. Snow and ice can make it easy to lose traction and control. Fortunately, a little preparation and some smart driving tips can keep you safe. So, before you head out for your next winter drive, read these tips.
1) Check the Weather
Before you head out anywhere, check the weather. Sometimes you need to drive in inclement weather, but it is best to avoid it if possible. Even if you do need to drive, knowing what the weather will be like can help you prepare properly for your trip.
Similarly, check the travel conditions. While it may have stopped snowing, for example, the roads may still be slippery. Additionally, there may be additional traffic if there was an accident due to the weather. Weather and road conditions can have a dramatic effect on what the appropriate speed for a road is. Plan accordingly for the driving conditions.
2) Secure Cargo
One of the reasons people take long trips during the winter is to hit the slopes. Additionally, people often visit loved ones for the holiday season. If you need to take skis and snowboards with you in your Subaru, for example, make sure to secure them properly with roof-mounted Subaru Forester cross bars. The last thing you want is to have poorly secured cargo falling off part way through a trip.
It is a good idea to take advantage of your roof to avoid any visual obstructions in the cabin. When the roads are less safe, it is important to ensure you can see clearly. It may be a good idea to load up some luggage in a roof cargo bin, for example.
3) Adjust Driving Style
The most important thing you can do in the winter is to adjust your driving style. In fact, it is actually legally required. If a road is dangerous due to weather or other circumstances, the speed limit reduces. Of course, even if that wasn't the case, it would be a good idea to slow down anyway. Weather-appropriate driving is a useful and necessary skill to learn.
Make sure to follow other cars at a distance. Your braking will be significantly worse, and you may slide on slippery ground. Similarly, try to drive as smoothly as possible. Sudden acceleration, braking or turning could send you into an uncontrolled slide.
4) Purchase Supplies
Visibility is essential to safe driving and is a special concern in the winter. Make sure you have an ice scraper with a brush and potentially deicing spray to help clean off your windows. Similarly, you may want to keep a small snow shovel in your trunk if you live in an area with significant snowfall.
A small first aid kit is a good idea all year-round. It may also be smart to keep a flashlight in your car. The last thing you want is to be fumbling around in the dark when it is below freezing outside. Car batteries are more likely to have trouble in the cold, so being ready for getting stranded is a good idea.
5) Stay Warm
Staying warm during the winter is important for more than just comfort. Dressing properly can help you drive more safely. Of course, keep in mind that it can get fairly toasty in a car after you've had the heating on for a while. So, plan to be able to strip off a layer while you are stopped.
Keep a spare blanket in the car. People break down in the winter sometimes. You may not always be able to rely on your car's heating system. A little preparation can help you stay warm, healthy and focused on your vehicle.
These tips will help you drive more safely during the winter weather. It is easy to find yourself unprepared for a snowstorm. Getting ahead of the issue now and setting your car up for the cold weather is the smart move.