5 Great Career Options for Travel Lovers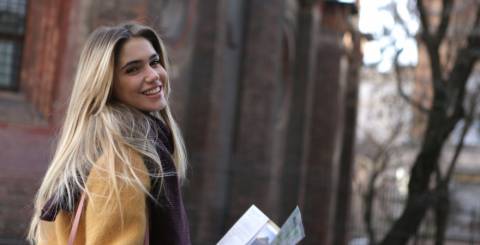 Tired of spending life stuck behind a desk? Maybe it's time to consider a career change to get you out of the office and exploring the world! If you love to travel, you're in luck – there are many opportunities if you want to travel regularly as part of your career. Here are five great career options that will allow you to explore the world as you earn money.
Flight Attendant
If you love to travel and love being around people, a job as a flight attendant could be perfect for you. Flight attendants spend each workday providing comfort to airline passengers, but more importantly, they enforce safety protocol on all flights. Depending on what airline employs you, you could be exploring a foreign country every week. You'll need to be a great people person to be successful in this field, and you'll need to complete rigorous training before you're able to serve guests up in the skies. Be prepared for long hours on your feet, potentially challenging customer interactions and a schedule that can vary wildly.
Truck Driver
For a stable career with great pay and benefits, consider becoming a truck driver. You may have to work odd hours and spend long amounts of time away from home, but you'll be able to explore new places and witness the variety of your country's landscape. Some truck driving jobs even have routes that will allow you to return home at the end of your workday. You'll need to complete truck driver training and possess a commercial driver's license. If you love driving and love to see new places, becoming a truck driver could be an excellent career choice.
Cruise Ship Employee
If adventure to you means life out at sea, a career on a cruise ship may be a great fit. Because cruise ships offer such a variety of services for guests, there are positions available for people with all skill sets. You'll get to explore much of the world and interact with people from a huge range of cultural backgrounds, but don't think life onboard a cruise ship will be all fun and games. You'll likely need to spend long hours on your feet, and you'll be dealing with people all day long. Any job onboard a cruise ship requires hard work, but if you can handle it, this could be a real dream job if you have a love for travel.
Tour Guide
Travelers often have a thirst for knowledge, which means that tour guides are in high demand in prime tourism hotspots. If you have a wealth of knowledge, and the desire to share it with like-minded lovers of travel, becoming a professional tour guide could be ideal for you. Tour guides often work in freelance positions; however, there are many large touring companies that could hire and deploy you in a wide variety of exciting locations. You'll need to have great memorization skills, be able to think on your feet and have great people skills to be successful in this type of career.
English Teacher
If you're a native English speaker and have some teaching experience, teaching English abroad may be an ideal way to earn a living while you travel. Generally, you'll need to have a bachelor's degree from an accredited college or university, and you'll potentially need a form of teacher certification, as well. English teachers are in especially high demand in Asian countries, and most English schools will pay for your relocation as well as offer you a great salary. No matter where you decide to teach, you need to have a compassionate, understanding and patient nature to be successful in this field.
Ready to say goodbye to the office and say hello to a career filled with exploration? Choose any of the jobs on this list and enjoy the excitement of travel while you work to make a great living!