10 Tips to find The Best House Movers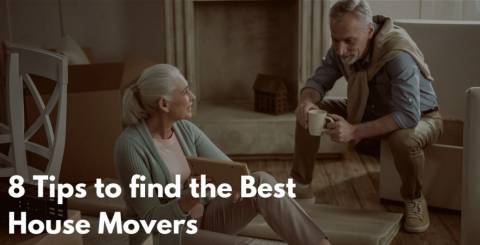 Are you preparing your move to a new location? The most important part of your moving is finding a removalist to make your process easy regardless of the size.
Indeed you will want to finish the work by yourself with the help of your friends and relatives. But they don't possess skills and lack training to move your possessions in a professional manner to prevent any damage.
Additionally, this a time-consuming process that needs proper planning. If your new house location is an unfamiliar place for you then you need house mover even more.
Now comes the biggest question- How to find the best House Movers near you?
Selecting the right removalist company is a crucial decision you will take regarding your relocation process. To reduce your stress, we have made a list of tips to help you get the best house movers.
1. Type of Moving Service
Based on your requirements you need to figure out what kind of service you want. You should be clear on this part to find the correct removalist for you.
•    Do you want to pack and move on a single day? Go for a local removalist.
•    Is your move interstate? It's a big move, you need to select carefully
•    Do you want to do the packing yourself? Then you need a company that can only transport your belongings to the new place
•    Are you in need to store belongings and want flexibility with the storage time? Moving companies offer different options.
•    Do you have to move precious and fragile items? You need to mention the value of the items to the company and may need insurance for them
Regardless of your needs, there are removalist companies to meet them.
2. Check for Recommendations
Get in touch with your friends and family for recommendations. You can also get in touch with real estate agents and coworkers to get information about some good moving companies. At times word of mouth is the best method to get the correct service.
While conducting the recommendation inquiry asks them the following questions:
•    Do they represent value for money?
•    How efficiently they conducted their move?
•    Did they reach on time?
•    Was the delivery as per the promised time?
•    What extra services do they offer?
3. Read Reviews and Testimonials 
Many customers post their views and experiences on the website or any other forums. You can read these reviews to know if the company's staff is skilled, courteous and work efficiently. Some of the public forums are Yellow Pages, and Facebook. A great way to find about a company is through their social media profiles and their website.
4. Conduct your Research
Once you have read the review, it's time to conduct your research. You need to check the following things:
•    How many years of experience do they have in this business
•    Do they have customer reviews and testimonials
•    Ask about the range of services they provide
•    How flexible they are in case you need additional support
5. Look for the best value
You don't want your possession to get damage in the transition. This is one of the reasons to look for the best value company rather than a cheap removalist. You should check if the company has a strong reputation, the latest equipment, vehicles in good condition and well-trained moving staff. Hiring a cheap removalist company may not offer a great standard and peace of mind.
6. List out the extra services
A well reputed Removalist company will offer you with a variety of services like packing, storage, unpacking, insurance, and many others. In case they're not able to provide you with that then ask them if they can refer some other trusted services for these additional requirements. There are certain additional services like packing, cleaning, packing accessories, storage, unpacking and transportation that are offered by the companies at competitive rates.
7. Removals Insurance
A removalist company will provide you with insurance to cover the fragile and delicate belongings. It isn't a problem if they can issue insurance policy by themselves or accredited with a third party to issue it. 
Your valuable and fragile possessions need insurance to protect them from accidents and give you the peace of mind. There is no doubt that a reputed company will try to keep your belongings safe but accidents can happen any time. So it's always a good idea to go with insurance rather than regretting later.
8. Getting Accurate Estimates
You need to ask at least 3 removalist companies for an estimate. For an accurate estimate, you need to give details via email or phone. Your removalist company will either send someone to survey your property or provide estimates based on the information you have filled.
9. Quality of packaging materials
Make sure that the removal company you are hiring uses the best quality packaging materials that protect your belongings from damage especially when it is in transit.
The packing containers should be made up of high-grade plastic that is resistant to heat and wear and tear as well. This will protect even your fragile items. The bubble wrap used should also be strong and sturdy, along with other materials.
10. Certification
Depending on what country and state you are in, you need to do a bit of research to see what qualifies a removal company to become a state-approved removal company.
Find out what all certifications these removal companies are required to have, and when you are in the process of hiring a company, make sure that the particular company has the certification and documents in place. These companies are the best and most reliable ones you can count on.