10 Things to Do Before Scrapping Your Car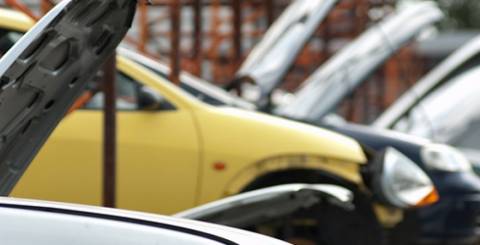 If you are having a scrap or old car deteriorating in your garage, then you might be wondering what to do with it. You may probably think of repairing it, but that may certainly out of the question. Because its repair cost will be either too high or it might be too smashed to be repaired. Sometimes the repair cost of a damaged vehicle can even exceed its actual market value. But then, what is the best way to deal with a damaged vehicle?
Scrapping your old car is perhaps the best solution to get rid of it in exchange for quick bucks. This is what most of the people do in the US. When vehicles reach the end stage of their useful lives about 13 million people sell their vehicle to salvage yards.
Here in this post, we have shared 10 things you must do before scrapping your old clunker:
1. Remove your personal belongings
Often we end up leaving some of our personal belongings in our vehicles and forget them for weeks or even months. So, when you scrap your old clunker, make sure to collect all your valuable personal belongings from it. Ensure to search through the trunk and other storage compartments.
2. Remove valuable parts before you junk your car
When selling their unwanted vehicles, people mostly focus on squeezing as much money as possible from it.  Therefore, you should ensure to take off all the valuable parts or components that can help you get some good dollars when sold individually.
Make sure to remove the starter motors, alternators, entertainment systems and other highly valuable parts that can be sold to drivers or retailers having similar automobile models. Also, check the wheels and battery. When you remove the tyres, ensure to replace them with beat up ones. If your automobile is non-working, then some of the dealers can often refuse to purchase it. Even the gas tank is also worth some good dollars, particularly if there is some gasoline in it. You can syphon it out by using a syphon pump and ensure to store it safely in a tight container, so you can use it in another automobile. If you wish, you can even take the help of a friend or a local mechanic.
3. Organise the documentation
Even though some dealers will buy your junk car without paperwork showing proof of ownership, but some dealers will likely knock you off. Having your vehicle title in hand will enable you to transfer its ownership to the dealer. So, if the automobile gets stolen from the scrap yard before scrapping, you won't be involved in any theft investigation. Even if you don't have the title in hand, visit your state's department of motor vehicles (DMV) and get it replaced. However, the rules associated with the car title vary from state to state, so ensure to check your state's DMV to and ask whether you need to have the vehicle documentation in order.
4. Take off the license plates
When a vehicle retires from service, the license plates don't cease to be useful. So, when your automobile is completely smashed, ensure to remove the license plates from it. In several states, taking off a license plate from the automobile upon transfer of its title is a legal requirement. When you will apply for the cancellation of its title, your state's DMV will certainly ask you for the plates.
5. Cancel the vehicle's insurance
If you cancel your car insurance, you will not need to make any recurring payments prior to expiration of the policy expires. You are entitled to get a refund, in case if you had paid the full coverage up front. But you must ensure to notify your carrier, even if your coverage is nearly up.
6. Check out several dealers for the best deal
It does not matter in what shape your old clunker is in, different dealers will provide a different amount of money. Therefore, it is best to shop around to get the best dealer who can offer a fair quantity of money or your vehicle. Auto dealers usually try to acquire the automobile at the lowest possible price. Therefore, make sure to gather great information about the automobile. Get a rough estimate of your automobile's value from several salvage yards, before selling it and then compare them to get the best price. Also, make sure to ask whether a dealer will offer free towing or not.
7. Ensure your dealer is licensed
In many states the junk car dealers are prohibited from doing business without a proper license. So, ensure to deal with a dealer who has an active license. Also, ask for the license number and verify it online, if your state provide e-services for license checks. So, if the dealer fails to pay the settled amount of cash at the end of the deal, you may not be to make a valid claim against the dealer.
8. Pull off the non-metal components
Although some dealers may buy your scrap vehicle along with its non-metallic parts, others would accept it only when it has been stripped down to just metal. You can take benefit of this opportunity and scrap off the plastics, pull out the seats and empty the fluids by using special tools.
You can even call your local mechanic to help out, as it will be the quickest option. Though it will certainly cost you some money.
9. Ensure the weight scale is certified
Mostly scrap automobiles are sold in tons. This means the more tons your dead automobile weighs, the more money it will earn. But you should find a dealer who uses a certified weight scale.
Because some of them use faulty or tampered weigh scales and which can knock off a few dollars from your automobile.
10. Consider other options to scrap your vehicle
Other than the above options, you can also consider selling your vehicle to cash for cars company or the charity of your choice. It is another great of getting rid of old junkers. The charity will slowly sell the automobile and use the proceeds to fund their charitable causes. Donating an automobile is a stress-free process you can claim a great tax deduction at the end.