10 Clever Ways to Maximise a Small Space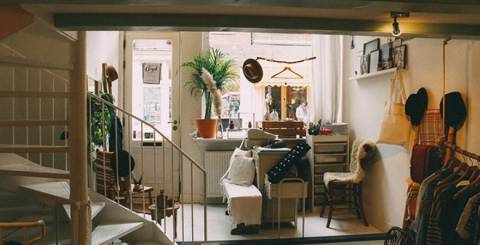 Who does not like having a huge space? While some people can afford a big house, a lot of people can work wonders with their interior design ideas so as to create a bigger space. Here are some interior design ideas that you can use so that you can maximise a smaller space and give it an illusion of looking much bigger:
1) Include mirrors as much as possible
Mirrors give a reflection of the interior included. The entire interior design looks much bigger when there is a reflection created. You can definitely include mirrors in your living room and the bedroom space so that the place looks much bigger.
2) Put dual colors in the ceiling for more depth
Another great idea to adopt is to include two shades in the ceiling. For instance, if you want it to look much taller, then go for a grey and white shade instead of just going for a single shade in the ceiling. This creates an illusion effect and is one of the most clever ways to maximise a small space.
3) Use light colors on floors and walls
Here is some bad news for people who like to keep maroons and dark blues as the centre of their space. Instead, we recommend you go for whites and lights on the floor as well as the ceiling. This makes the house look much bigger too.
4 ) Put furniture a little away from walls
When you go for home decor online shopping, remember to buy smaller furniture than you would. Put the furniture a little away from the wall so that the space looks much bigger. This gives an illusion of extra space being vacant, hence making a small space looking much bigger than usual.
5) Try using hidden storage
Instead of keeping shelves everywhere, you can act smart and double up your furniture as storage space. For instance, the center table of the living room can be doubled up as storage space and you can even get beds which have boxes in them. This way, you would not require an extra space for storing your blankets and stuff.
6) Hang shelves upward
Another trick to get the attention upwards towards ceiling is by hanging shelves upwards. You can place your books or trophies or even showpieces. This is a sureshot way to ensure that your room looks like it has much more depth and even better.
7 ) Use the rule of a cantaloupe
Another rule to remember when buying your centerpieces is the rule of the cantaloupe. Anything smaller than this will only crowd the space. Instead pick quality over quantity and go for bigger centerpieces as compared to smaller ones.
8) Try using stripes for elongating the space
In order to make the space look bigger, you can go for this funky trick too. On the floor, you can put different stripe combinations such as beige and white. Additionally, you can also put a table with stripes on it. This will help in maximising the small space and give it an illusion of looking much bigger.
9) Clear shower curtain is a good idea
If you have a really small bathroom, then you can even put a clear shower curtain on the bathtub. Much like the mirror, this will also give the illusion of a bigger space and make your small bathroom look bigger.
10) Keep the windows uncovered completely
If your windows are not crowded, and remain uncovered without a drape, then they will make the space look much bigger. You can go for a simple white framing with a glass for a better effect and place a sofa or a sitting piece right in front. This is also a good way to maximise the space.
All of the aforementioned ideas are great simple tricks to ensure that even the smallest space looks big and whatever space you have looks maximised.