Which Types of Wedding Dresses Are Perfect for A Beach Ceremony?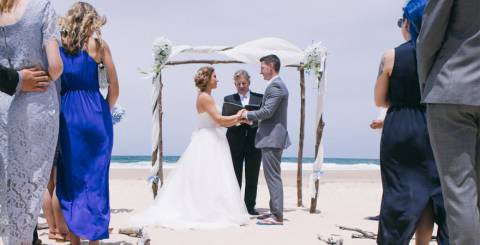 When it comes to having a beach ceremony, there are a couple of things that you should consider when you decide what type of wedding dress you should purchase. Some type of wedding dresses isn't just made for the beach and can become a real problem at the beach. Especially if the wind is blowing and you can have problems with sand.
This is why it is important that you know what type of wedding dresses are perfect for a beach ceremony. This is so that you still look like a bride, but that you don't struggle with a dress that is getting ruined in the sand. These are things to consider when choosing the type of dress for your beach wedding.
Avoid delicate dresses
This is the last thing that you want. To purchase an expensive, delicate dress that can easily be ruined. A beach wedding normally means sand and water. And, no matter how hard you are trying, your dress will get full of sand.  Especially, when there is a wind that is blowing.
Delicate dresses with beading and lace will be a trap for beach sand. This can not only ruin the dress, but it will also ruin the pictures of the dress and off you. With a beach wedding, the simpler the dress, the better it will be for you.
Shorter dresses might be better
It is recommended that you are wearing shorter wedding dresses that won't touch the ground and the beach sand. Then, you can still be beautiful, without having a dress that is catching all the sand that is coming near the dress.
The dress can be ankle length or even knee-height lengths. As long as the dress looks like a wedding dress, and you feel like a bride, everything will be fine. There are a couple of beautiful short beach wedding dresses on the market.
Fun dresses are made for a beach wedding
With a beach wedding, fun dresses are the way to go. This is where you can use your imagination and your personal style to choose the right, shorter dress.
Not everyone likes long, delicate and complicated wedding dresses. And, this is why you need to make sure that you are considering a fun, non-lacy wedding dress for the beach. With a beach wedding, you can create a fun, personal designed dress that you can wear on the beach without damaging it in any way.
You need to consider the type of shoes you wear as well
This might not have anything to do with the wedding dress that you need to wear with the wedding dress. However, purchasing the right pair of shoes with a beach wedding is extremely important.
If you are wearing shoes that have high heels, then you are going to get stuck in the sand. But, other heels won't really make a huge difference. This is why so many of the bride and groom have a barefoot wedding, and they encourage guests to do the same. To wear shoes that don't exist, and Android that doesn't have the right type of voice.
What type of wedding dress is perfect for the wedding of your best friend? There are so many things that you need to consider and do to have a great wedding dress. The last thing that you need, is to worry about what you are going to wear. A bride can wear anything that they want to wear. Without any problems and without ruining your dress. Simple, shorter and without beads, is the wedding dress you should consider with a beach wedding.