Various Ways To Establish Yourself As A Car Mechanic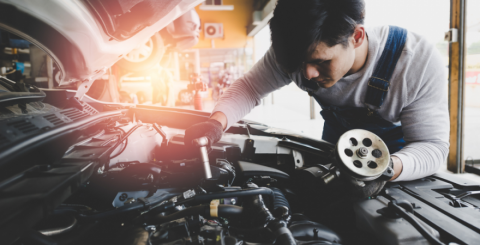 The number of career options you get these days are varied and endless. If you have a passion for cars, then you can become a successful car mechanic soon by enrolling in a course. A car mechanic has a good demand in the present competitive world as a number of cars being owned is increasing day by day. The requirements for new models of cars are increasing exponentially, and as a result, the manufacturing companies are bringing new models in the market to meet the end user expectations. The scopes for car mechanics professionals hence are increasing automatically.
There are two ways in which the car mechanic career can work out for you. One, you can choose to be a part of a good automobile brand, or you can establish yourself as an independent car mechanic and develop your own unique identity in this field. Both ways there is no doubt that you will always have your platter filled with work.
What To Do To Next?
There are reputed institutes which can help you learn the skills to repair the parts of a car and learn about car servicing etc. tasks. In order to become a valid car mechanic, you need to learn all, the elements associated with the car. These institutes also provide you an authentic certification after passing an exam at the end of the program.
This certificate is going to be immense value in your future life as a professional car mechanic. The requirements of the institutes are different, and you need to be eligible to get admission in these institutes for studying car mechanic courses. Choose an institute which will not just provide theoretical skills but also help to develop real-time skill and help in placements.  
How To Find The Institute To Become A Car Mechanic?
The online platform can be very useful in your hunt for an institute to learn car mechanic program. You can gather some recommendations from anyone you know. Asking around friends and family can be helpful in this regard. Before investing in an institute undergo some basic background check of their past students. Get in touch with students who have passed out and are working professionally as a car mechanic somewhere to get a better idea.
Keep in mind that only theoretical knowledge cannot make you the best in your profession. You should also experience how to repair and provide the best service to cars practically as well. So, find the institutes accordingly which allows students to work practically.
Skills You Should Have To Be A Car Mechanic:
You should have some basic skills to be a successful car mechanic apart from the knowledge and the certificate from a reputed institution. Following are those specific and unique skills sets:
•    Having a lot of patience: This is the first and foremost thing a mechanic needs to have while dealing with cars. Very often the job of a mechanic will be to spend hours inspecting and identifying the problem and fixing it. If a mechanic doesn't have the patience to identify the problem, he will never be able to solve it.
•    Understanding the problem in-depth: A car mechanic should understand the problem of the automobile in detail before fixing the problem. No car owner wants to spend repeatedly for the same problem as it involves time and money.
•    Promptness in approach: In urgent cases like an accident, the car mechanic should understand the urgency of the client and be able to fix the problems of the car at once.
•    Updated information: Every now and then new parts of the cars and new models are being introduced in the market. And you need to be updated about these advanced tools and models and mechanisms to provide the best solution to your client.
The above-mentioned guideline can help you in being a successful car mechanic and earn a good name in the market.