Top 10 Ways to Ensure a Successful Website Design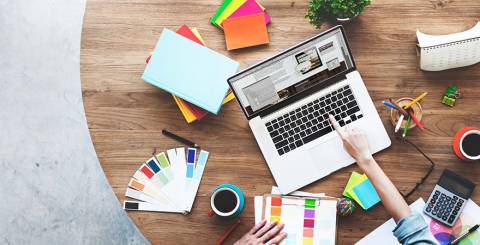 1) Focus On the User
Whether you're creating a new website or updating your existing one, each alteration must be in the best interests of your visitors/prospective clients. Everything you add, subtract and change, must be done so for the sole purpose of improving the ease and effectiveness of your site for the user.
2) Make the Most of Language
The manner in which you communicate to your users plays a big role in determining whether they stay or go, but more importantly, whether they choose to do business with you or not. Always look to convey your message in a simple and straightforward fashion. In order to communicate effectively with the visitors to your website, It's essential that you understand your target demographic. If you're uncertain of how best to write for your audience, get someone who is most likely to be a member of that audience and ask for their opinion on what you've written.
3) Never Complicate Things
Central to any successful website design is a clear and easy to understand interface that provides users with swift access to all the information they need. The more information that is displayed on a single page, the more important it is to structure it in such a way that prevents confusion. Pages that contain too many elements are likely to frustrate your users and cause them to abandon your site.
4) Separate Information into Smaller Categories
Studies have shown that people are much more likely to remember the information they read, if it is arranged into a small number of categories – several or less is ideal. Whenever you have a particularly large amount of information displayed on a single page, look to implement this rule to help avoid confusion among your audience.
5) Create Effective Website Forms
Whether it's a contact form, a sign-up form or similar, all website forms play a key role in gathering data from users and are vital to the function of every site. Here's a list of ways to ensure more effective web forms:
Always list the form headings in a logical fashion
Avoid using more than one column, as this can confuse your visitors
Be sure to use example text in each form field to ensure that users know the correct way to fill out the form
Use clearly defined Call to Action buttons
Once the user has submitted the form, be sure to display a message that reassures them that the form has been submitted successfully
6) Use Sensible Designed Navigation Menus
Your menus are the main method in which your visitors navigate your website, so they need to be thoughtfully designed. Your top menu headings should be dedicated to the areas of your site that are most valuable to visitors, with subheadings that enable them to quickly access closely related information. A lot of sites choose to enhance their navigation through the use of a search function. This is particularly important for e-commerce stores that may contain thousands of different products. A user will be able to find the product(s) they're after in a fraction of the time by using the search function.
7) Ensure It's Responsive
As of 2018, there are now more people accessing the internet from their smartphone or tablet, than there are from desktop computers. Having a successful website design means having a site that delivers an optimal user experience on every device. Thankfully, all popular Content Management Systems such as WordPress are responsive by default, so you can be guaranteed that your site will be fully functional on every format.
8) Use Colour to Your Advantage
Colour can have a profound effect on one's mood and is widely used for marketing purposes. A dramatic colour such as red is used to great effect when encouraging a user to take action, such as buy, sign up or download. Blue, on the other hand, is a frequently used colour which is known to help establish a sense of trust and is also believed to calm the nervous system.
Along with all the other elements mentioned throughout this guide, colour is also a very important consideration for website design. Be sure to read up on the psychology of colour to learn about where specific colours can most effectively be used.
9) Format Your Text Correctly
The layout and formatting of on-page text is an integral part of successful website design. There are a number of best practices web designers can employ to ensure lower bounce rates and higher conversions.
Arrange your content in a logical order, with the most important information at the top
Create engaging headings and subheadings that capture the user's attention
Ensure heading and body text fonts don't clash with each other
Ensure body text isn't too small; text that isn't big enough is hard to read and will frustrate users, increasing the chances that they'll leave
10) Create Effective Call to Actions
As mentioned earlier, the purpose of every website is to get the user to take action and this is achieved through the use of Call to Actions (CTAs). There are a number of ways in which CTAs can be optimised to improve user engagement.
Size – it must be prominent, but at the same time, should not dwarf the other elements
Design – the appearance of the CTA plays an important role in engagement levels. In particular, be sure to research how colour can be used to enhance them
Position – be sure to position the CTAs in an area of the page that is going to enjoy maximum exposure
Text – what is written on the CTA button itself is also very important. Opt for a short, impactful label
If you're contemplating a new website design or would simply like to update your existing one, get in touch with an experienced Website Design Company.