Things to Ponder with your Brand's CX during these COVID-19 Pandemic Times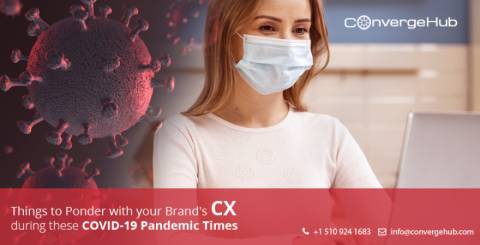 It has been over a fortnight that COVID-19 is impacting customer behaviors and businesses worldwide. Now, as we all are adjusting our daily routines during these unprecedented times, CX (Customer Experience) programs are one of the most convenient ways to help measure, address and monitor customers' changes that are required with support and compassion during these trying times.
However, as it may not be immediately apparent for several small businesses as to what they should do with their existing CX programs and survey to tide over this Pandemic, in this post allow us to look at three important questions that businesses may have about managing their CX programs and some tweaks to consider that can help ensure that they can understand and support their customers, while also offer their consumers a positive digital experience for consistent business growth.
What type of research businesses should use to perceive their visitor's expectations during these COVID-19 times?
Now, in these exceptional times, businesses need to continuously understand the expectations of their customers and remain ever-ready to mitigate issues quickly. This means knowing what your brand can do to support your customers further or provide additional information that they can provide on their digital channels to the consumers of their offerings.
For this we as one of the award-winning vendors of the best small and medium business CRM software solution in the Salesforce Alternative CRM space, we recommend our readers to use a tactical approach to their research.
For example, engaging those customers who frequently access COVID-19 related content on your blog pages or website with a short survey focused on assimilating targeted feedbacks related to your brand's efforts during these dark times.
Now the main objective of performing a tactical survey is to aid businesses to identify specific issues that your individual customers are experiencing now, and thereafter help mobilize your application, business website and your front-line teams to address them.
However, in these surveys make sure that you only ask questions that will provide you feedback which will help you to render aid to your customers, and due to this sensitive nature of COVID-19 Pandemic avoid asking questions that will not help you to do this.
The main objective of performing Experience Tracking surveys is to provide businesses a representative view of how all your website visitors are perceiving their digital experience and thereafter gain insights to help drive the CX strategy of your business.
In fact, these Experience Tracking surveys use a 'Pre and Post' sampling methodology, whereby you can invite a random sample of website visitors upon entry to your businesses' websites to share feedback about their experience once the session ends.
Now as per our experience the disrupting effects of the Coronavirus Pandemic will impact the KPIs that you normally track with these surveys, like:
Purpose of Visit
Customer satisfaction and Overall satisfaction
Task Completion
NPS (Net Promoter Score)
Customer Effort Score and Ease of Use
Nevertheless, changing the verbiage of these questions or the sampling approach to your Experience Tracking survey can also impact the KPIs in your easy to use CRM once you are using one to measure and evaluate the results of your surveys.
This is because, as the COVID-19 situation develops further in the next few weeks it will undoubtedly impact the customer journey and your customer's requirements will also likely evolve and so being able to closely observer how well your application or website supports your consumers during this critical times is important for your business.
Therefore, to make sure of consistency in the tracking of your KPIs, we as one of the most popular vendors of the best CRM software for SMB organizations recommend businesses only to review the "Purpose of Visit" question to make sure that it accounts for any potential needs that you may expect to arise as a result of this unforeseen Pandemic.
In other words, the goal for performing this exercise is to limit the percentage of visitors who classify themselves as "Others" for this "Purpose of Visit" question and analyze these needs and your businesses' abilities to meet these requirements during and after this Pandemic times.
Should businesses update their surveys to include information highlighting content about COVID-19?
Definitely!
As the Coronavirus Pandemic is disrupting how we as consumers complete our daily tasks, and how brands generally used to operate to meet their customer's needs, many brands have already launched specific web-pages pertaining to COVID-19 and also Coronavirus relevant content to inform their website visitors of how this global crisis is impacting (or not impacting) their abilities to serve their customers.
Now while this is also true that not all website visitors may come with the specific intention of looking at this information, nevertheless a proactive approach to direct users to this content can aid in building trust in your brand during these unpreceded challenging dark times.
This is because we have been observing with several brands these COVID-19 associated web-pages are usually clearly highlighted or marked on the website, and an easy way you can bring more attention to these content is to include details or a link at the end of your survey (on the "Thank You" page) that might help in pointing respondents to where they can access more information based on their current needs.
Takeaway- Moving forward with your customer feedback program
Therefore as we all are adjusting to these new realities, in this COVID-19 Pandemic, your CX program must help you proactively understand your customer's requirements and provide the insights you need to best support your customers and so using a targeted approach for COVID-19 specific surveys and for the present times keeping your Experience Tracking surveys somewhat untouched, is the need of the hours that will help you gather these insights and act speedily, while upholding a solid view of COVID-19 impact on the complete sentiment about your digital experiences in these dark days.