Some Companies Are Using Microsoft Dynamics Damn Creatively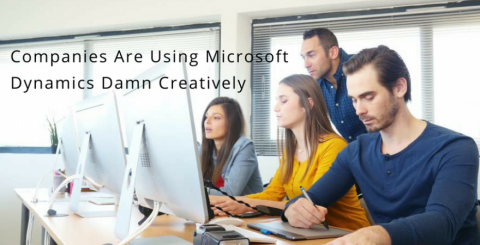 Microsoft Dynamics 365 has become the talk of the town. The ERP solution has become the go-to ERP software solution for small, medium, and large organizations. Some of the well-known manufacturing companies worldwide are using the solution to manage their business operations more efficiently and cost-effectively.
Other creative reasons why companies are using the Microsoft Dynamics software solution are-
Market Forecasting – Companies are increasingly using Microsoft Dynamics to observe and analyze their customers' buying patterns in order to predict the future trends. Forecasting is an imperative aspect of the Marketing phase of a business.  The forecasts and results data about Marketing in Microsoft Dynamics includes support contracts, support cases, service activities, sales activities, campaigns and quick campaigns. Predictive analysis with Dynamics software gives you a peek into data like the number of customers you run the risk of losing, the expected lifetime value of customers, and products that the customers are likely to buy, of course!
Online class registration – Setting up classes in the software also allows for related crucial functionalities like tracking documents, dates, signups, etc., in a single centralized place. Automatic workflows in the software can carry out tasks for registration like alerting the instructor about the new student, confirming student's registration, sending payments information into the ERP system, etc.
Community management – Several institutions such as churches, non-profits, etc., need a system to manage their memberships, fund-raising campaigns, missions, and the participations. Microsoft Dynamics is a manager for these institutions because it can help them with all these operations and more. The software can be used to manage volunteers, events, pledges, contribution programs, communications that are internal as well as external, etc.
Enhancing healthcare operations – Medical product manufacturers and distributors care about customer protection the most. In the face of any defects or mishaps from the medical devices manufacturers in the devices can be handled by Microsoft Dynamics. It can help them automatically notify the product owners about recalling of their product or find related information in a CRM-based knowledge system or suggest complimentary or additional products that can benefit the purchaser of the medical device.
Centralized view of the system – Microsoft Dynamics provides a centralized view of the system to the sales representatives so that they function on the basis of relevant and updated information.
An alerting system – If you have a lot on your plate, it is easy to forget small yet crucial stuff. Microsoft Dynamics CRM can double as your alarm clock and can remind you of tasks that are easy to forget but important to be done. Simple alerts on time can help your team exceed expectations of your customers and delight them. Some companies are using alerts for repair jobs that have not been started within 24 hours, sales quotes that have not been followed up in 2 weeks, and parts that have been on order and have not been delivered within 3 days. This way, Microsoft Dynamics can be your assistant and ensure you deliver quality and timely services to your customers.
Collaboration between departments – This cannot be emphasized enough it is so crucial today to maintain a collaboration among departments in a business. It is so important for the service persons to know the customers' engagement with their company in and out. It is equally important for the sales persons to see a consolidated quote and policy information for each of their customers.
These are some of the out-of-the-box ways in which Microsoft Dynamics AX consultants solution is being employed in organizations to improve their overall operations and functioning. If these challenges are also faced regularly by your enterprise, get started with solving them with Dynamics!