Several Popular Alternatives to the Classic Diamond Engagement Ring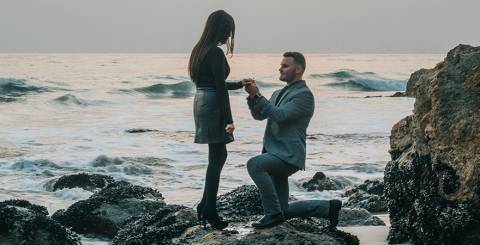 https://unsplash.com/photos/wok8ytqf-qM
Diamond engagement rings. Something that is common everywhere in the world. But what if you are looking for something different than a diamond ring when you are getting engaged? Is there really anything else that you can consider, besides a diamond ring? And, what if you can't afford to buy a diamond ring, because diamonds are expensive.
The good news is that there are a couple of alternatives to diamond engagement rings that will still have great meaning and that will be special.
Synthetic diamonds
For those that want to have a diamond ring, but that can't really afford the real thing. What about a synthetic diamond? You can say that it is a fake diamond, but it really looks like the real one. It isn't just a cheap glass piece that was used. You need to be an expert to see the difference between the real diamond and the fake, man-made diamond.
Something as simple as a knot ring
This might not be something that everyone would like, but a knot ring. A golden, silver or white gold ring that doesn't have a stone in. Instead, the top part of the ring is tied in a knot. To symbolize that you are tying the knot in marriage. This is for those that are looking for something simple, something with meaning, but without breaking the bank with buying an expensive diamond ring.
Gemstone ring
Another great choice is a gemstone ring. There are a variety of gemstone rings that you can purchase, each with a different meaning. You are getting your birthstone, or you can purchase the stone for the month that you are getting married in. Or, you can just purchase the color stone that your loved one real loves. There is a huge selection of colors and styles to choose from. And, the prices of these rings are a bit cheaper than diamond engagement rings.
The Celtic Ring
For many people the Celtic ring is unknown. People don't know what the ring is, how it looks like, or what it really means. With the right meaning, you will find that this is a really special ring that will be the perfect engagement ring. Even, if this isn't a diamond or even a man-made diamond ring.
This is a traditional Celtic ring, that can be worn when you are engaged or married. It is two hands that are holding a heart-shaped stone. The stone can be any type of color. Normally it is a gemstone. The two hands are the person holding your heart in his hand. When a woman is engaged, the hands are showing to her heart. When she is married, the hands are showing outwards. A great meaning, for something as special as true love.
Antique ring
Not all engagement rings need to be purchased from a jewellery store. This is something that isn't used as often these days anymore. This is because we want our own taste and not want to wear a ring that our mother or grandmother were wearing. However, there are some people that have an antique ring that is going from generation to generation. And, this can make a special engagement ring. It doesn't need to be a diamond ring, but because of the age of the ring, it is normally an expensive and meaningful ring.
If you don't want to have a diamond engagement ring, then you don't need to worry. You aren't the only one. With these five alternatives to diamond rings, you can choose something that is special to you. Something that you want to wear for the rest of your lives. There isn't a rule that is saying that an engagement ring should be a diamond ring.