Is The Rebirth Of Sales With Artificial Intelligence Here At Our Doorsteps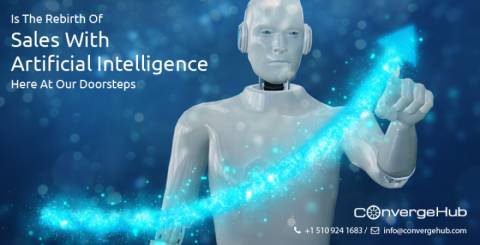 AI or Artificial Intelligence is infringing on the human-made sales process at an accelerating and exciting rate, or for some in a frightening manner, depending on your side of the coin.
This is because using predictive analysis, machine learning, and big data analytics, Artificial Intelligence can now not only automate mundane day-to-day tasks, but it is also capable of unearthing insights off sales data, and assist salespersons in enhancing their overall service.
Nowadays we can see AI integrated into easy to use CRM software platforms, Sales Force Automation tools, help desk solutions, and many other B2B applications, and business growth technologies found in the marketplace.
Now as technology vendors are pushing their envelope for smarter solutions, the benefits of AI for boosting sales efficiency are high, and the stakes too.
Hence in this article let us look at both sides of this argument:
AI Increases Leads
Now we are talking about exponential growth over here as in a study done by HBR (Harvard Business Review) it showed the businesses that use AI is their sales process claimed to have increased their lead generation by 50%.
As there are already enough accurate lead assessment tools in the marketplace, AI will only enhance these solutions which are now sorting social media profiles of the leads and the prospects, their historical transaction patterns, online interactions, and more.
Additionally, predictive analysis in AI is nowadays going beyond and superseding the "what" factor in data and delving into the "why".
For this many vendors in the CRM marketplace are developing automation that is helping to contextualize the online engagements and digital details of leads against big data, which driven by cutting-edge algorithms are qualifying leads faster, and more accurately.
The result?
In the present times, sales reps can cover larger grounds in a lesser period by following the most qualified leads with more time on their hand.
AI Means Lesser Admin Tasks
Nowadays it has been widely observed that in most industries AI has started aiding fundamental works and business processes and is working its way up to more complex stages. Therefore, right now in sales repetitive and time-consuming tasks can be taken off the rep's daily workload with the help of Sales Force Automation or SFA that is increasingly becoming more intuitive and smarter aided with AI, which includes order taking, product-profile matching, transaction processing, and templating reports, etc.
Moreover, Artificial Intelligence is also increasingly stepping into the middle-of-the-funnel in the sales pipeline as several lead management applications can nowadays assist the sales reps in sustaining their follow-ups up to the proposal stage.
Now, this is nothing new, with multi-tire email marketing, nevertheless with the growth in AI technology automation extends even to B2B (Business-to-Business) sales processes, whereby cold calling performed by automated means can even simultaneously arrange face-to-face presentations.
Hence now with AI aiding sales in performing admin tasks, with more time on their hand, reps will be master of the 20/20 rule and so can focus their resources, energy, and time on their most profitable customers.
AI Means a Shorter Sales Cycle
We say this because the sales cycle will cut short since lead generation and qualification can be automated with AI nowadays.
Hence with the growth of AI in sales, reps will have a huge head start since now their actual leg work will start at the "Proposal" stage in the funnel.
Therefore, the time sales reps previously invested in admin tasks can be allocated to thinking proposals, which will likely help in funneling prospects faster to the "Negotiation" and the "Closing" stage.
AI Means Quicker Customer Service
In this AI era, the advances made in consumer technology solutions like Google Home, Amazon's Echo, and Microsoft's Tay Chatbot are also spilling over to the B2B landscape.
This is because, AI nowadays can parse FAQs and predictable queries of the customers (like the when, what, where, how, and why queries), and thereby initiate contact with the customers through emails, chats, and even phone calls which is now also in the AI realm.
Therefore, with quicker response time, businesses using AI in their processes can now make their customers happy or address problems even before they blow up and even plow back the same queries of the customers into the CRM be it Salesforce or even any other Salesforce Alternative CRM tools and funnel them into the sales pipeline for up-selling and cross-selling opportunities.
BUT FOR THIS….
Will The Sales Reps Lose Their Jobs?
Now the other side of the coin is the sales reps who are looking at AI with huge skepticisms. In fact, in a study done by McKinsey Global Institute, it was revealed that more than even 40 percent of the time spent on sales activities by employees in small and medium businesses can be automated by adapting current business growth technologies.
And this figure will be on the rise as AI becomes more intelligent in the days to come.
Now it means one thing to be "free of workload" and another "of work". Therefore as per the statistics provided by McKinsey Global Institute, 40 percent of work never indicates that the sales reps in the near future, will become less important, rather it suggests that AI will drive to make the sales reps more efficient since Artificial Intelligence cannot wake up to the nuances of human emotions or make snap judgments which are extremely important as selling skills.
Therefore with the encroachment of AI in sales at the worse, sales reps in the future might need to adapt to a new role. They will be marketers, even managers, jobs that need advanced analytical accomplishments to find insights out of data and use it to run territory-based campaigns.
Hence, in other words, shortly sales reps will be needed to understand and interpret much of what AI will churn out or manage AI tools with escalation protocols on what they can and cannot handle and help AI to navigate through the tricky parts in their workflows for sustaining consistent revenue growth.