Reasons for Integrating Automated Customer Care In Your Marketing Strategies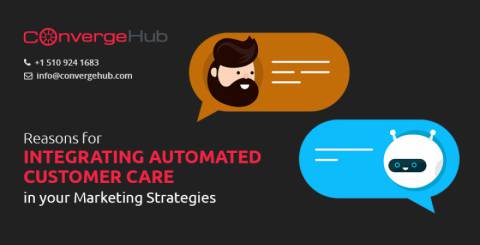 The era of [email protected] is over nowadays.
This is because the time for automation and conversational communications are up upon us as today's consumers expect much more from their preferred and loved brands, and therefore businesses must evolve to cater to real-time engagements to satisfy their customers' requirements, wants and needs.
According to a recent survey, it has been found that 80% of the consumers say that no brand or service providers have ever sent them communication that they might consider overtly personal.
For example, if you take a look at the global cosmetic giant L'Oréal when they launched their Makeup Genius app, consumers did not cry foul at face recognition technology, but rather they seized the opportunity to get engaged with the L'Oréal brand in that manner, which demonstrates that consumers are really hungry for personalized experiences from businesses that add value beyond the product itself.
Now even though automated communications most often resonates to be cold and impersonal, like for example, a typical cart abandonment email tries to be relevant, although it frequently sounds like it was written to a mass audience, or got timed a little off, nevertheless the truth is that to connect with customers businesses must find harmony in relevance, timeliness, and ease of use.
Therefore be it through traditional emails or newer channels like web-chat, SMS texting, or in-home voice assist, creating personalized automation using cutting-edge business growth technology and tools are the future for creating better customer experiences.
This is because it is only real-time communication that opens the doors to more personal branded conversations.
Hence, brands in modern times can take advantage of that expectation of the customers to create more touch-points and thereby boost engagements- but to do so they must primarily connect on the audiences' terms to reap their harvest.
Now, true engagement in the customer care arena is necessarily channel-agnostic and therefore must suit the customer's preferences rightly.
However, as per the conventional approach business typically focus on adding more channels as options and thereafter strive to maximize results on each of these channels for growth.
Whereby channel-agnostic approach focuses primarily on elevating the customer's holistic experience and thereafter makes it easy and convenient across channels, adapting to the subtle differences with each, whereby it is always the customer-first and channel-second mindset.
This is because modern businesses know that customers yearn for such freedom. Since, while some consumers prefer to text, there are also others that favor spending their time chatting with brands on social media platforms.
Therefore the ultimate objective for any brand is to be in the right place at the right time and bring all their service capabilities and knowledge with them to serve the customers.
However, as employing full teams for every channel can be prohibitively costly, therefore it is only through automation brands can cater to meet with advanced audience expectations today.
Building Revenue On An Enhanced Customer Experience
Using automation in customer care, businesses can not only boost engagements but it can even help in improving their loyalty programs, using truthful customer data, once they buy CRM , to organize automated marketing programs across all the channels that their consumers prefer to use.
For example using automation in customer support if any consumer Tweets a negative or vile remark about their recent experience an automated response can be immediately sent to that customer along with a personalized discount and product recommendation to encourage their future spending ensuring no delay or no waiting for someone to comb through their email's inbox, resulting in no missed opportunity for the brand to reengage the unhappy customer.
Hence in modern times opportunities to engage consumers into automated conversations carry a new lesson from brands nowadays.
However, to take advantage of this new medium, businesses must remember that while their organizational skills built around social, email and website messaging might be a familiar practice, it is only new practices (not old ones) that will eventually lead the way to business growth .
In one of the latest researches done on businesses, it has been found that most successful companies in this era of automated future will make use of smarter technologies and tools to engage in detailed and relevant conversations with their consumers as the buzz around conversational artificial intelligence is growing louder every passing day.
Therefore to position your brand to benefit now and in the future days to come, follow these steps to bring the power of automation personalization to your marketing and customer care strategies:
Identify your opportunities
To find your opportunities look into possible areas of interest of your customers and then judge how automation technology in customer care can augment your results after identifying the right answers to the questions listed below:
Where could your brand benefit the most from increasing customer experience?
Should your brand follow loyalty programs, social engagements, product selection, personalized content, or other value-added services?
Work together with your customer care teams
Your customer care and marketing teams should work in unison to nullify the gap between the moments of engagements and moments of service that lead to new conversations.
Therefore, discuss with your customer service and operations leaders to explore how automated conversation could positively impact KPIs on both sides in your company.
Seek outside inspiration
Finally, explore around to find what your industry rivals are doing with customer care automation. Read case studies of thriving businesses and brands that are doing well to understand how they provide relevant customer experiences, answer questions, and keep their communications relevant all the way through the customer journey before mapping the top priorities for your brand.
Never believe in the myth that customers just want to buy and so thereafter can be left alone. 
This is because today's customers want real-time and relevant interactions with their preferred brands and so to meet that expectation businesses must plan for future opportunities and look for automated engagement strategies and, business growth technology and tools to build these new marketing opportunities.