The Most Iconic Wedding Dresses of All Time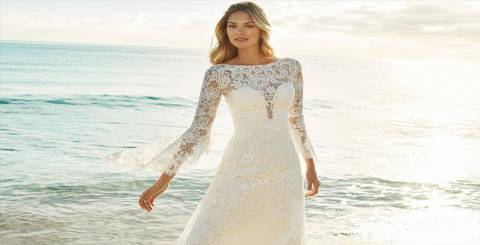 You've seen some amazing wedding dresses on TV, in black and white photos in magazines and more. These range from royalty dresses to iconic celebrity. The world has focused its attention on these iconic wedding dresses as these celebs said their "I Do's".
If you feel inspired by these wedding dresses, you are just in luck. While you may think these dresses are out of your budget, the good news is that there are some places that sell similar styles for prices that are more affordable. Here are some of the most memorable wedding dresses that span over several years.
Kate Middleton
This dress mimicked millions of imitations. This long-sleeved dress drew lots of attention in the media and was a perfect mix of modernity and tradition. Sarah Burton was the designer of this masterpiece and offered an ivory satin with lace bodice. The sleeves were made of lace and offered a full skirt with a low neckline. There were several components to this dress and with an easy design, allows you to find a similar style for your own wedding day.
Meghan Markle
Seven years following William and Kate's nuptials, there was yet another royal wedding. Megan Markle and Prince Henry tied the knot. The former actress showed off a three-quarter length sleeved boat neck dress by Givenchy. The 26-foot veil was accented and embroidered with various flowers that reminded her of homes in California and also Kensington Palace.
Jacqueline Kennedy
Jacqueline Bouvier, the first lady, became of the most well-known icons from this time. She was married to John F. Kennedy in her ball gown styled dress in 1953. Ann Lowe was a New York designer created this dress and created it from 50 feet of ivory silk taffeta. There were several sentimental additions to the dress that included wax flowers sewn into the seams and the veil she wore was passed down by her grandmother.
Olivia Palermo
Former MTV personality and socialite went outside of the traditional wedding dress with her 3-piece style. Her dress had a chic look to it, and she made it look effortless. Her dress was designed by Caroline Herrera. It came with a cashmere sweater cream in color and white shirts that were covered by a tulle skirt overlay.
Kate Moss
Her famed career being a supermodel meant that her bridal ensemble appeared to have come straight from the runways. Champagne in color and designed by John Galliano, her gown was dazzled with both rhinestone embellishments and a metallic appearance. Offering a sheer overlay made for a rather unique neckline and overall appearance that would draw everyone's attention.
Grace Kelly
Perhaps one of the most iconic and beautiful gowns of all time was Grace Kelley's dress created by the MGM wardrobe department. This dress offered rose lace details along with seed pearl accents, a flared skirt and a fitted bodice with long sleeves. The skirt of the dress was flared and offered a rather elaborate design that was made in for pieces.
Sofia Vergara
Designed by Zuhair Marad, Sofia's wedding dress was the classic white and still showed off her figure. Featuring a bodice that was hand-embroidered, it was also bedazzled with pearls and sequins. The skirt was fully detachable which remained traditional for her ceremony, but at the reception, the skirt detached to allow her to dance while on the dance floor.
These are just some of the most iconic dresses that many people adored and admired. There are many bridal salons that carry dresses that have the features you want from celebs and royalty. You can use these for inspiration for your own big day.