More Ways To Provide Agile Customer Experience During COVID-19 (With Action Item For Leaders)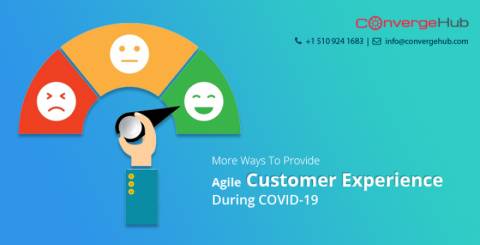 Even though you might feel sick of listening to topics on Customer Experience, nevertheless this article is related to COVID-19 and this Pandemic that is shaking us now across the globe.
Hence as businesses have been unprepared for this economic freefall, as one the most popular vendors of Salesforce Alternative CRM, we ask ourselves: What can be done to prepare us for these turbulent times?
Now agility in CX aka Customer Experience is a big thing that holds considerable importance for business growth.
This is because both services and products delivered by brands are getting increasingly commoditized, which is even more true in these Pandemic-affected dark times, with customers and businesses facing the never experienced before challenges of social-distancing and complete lockdowns in all cities across the globe.
The problem is that there are several businesses in the present times that came to a grinding halt in practically no time, as most non-essential brick-and-mortar and online stores needed to get shut down, their supply chains are broken since other ancillary businesses partnering their operations also needed to get shut down, or there were multiple risk factors involved for employees to remain working in the contained quarters (where offices and stores are often located)- not to mention about those employees who use public transports to commute.
Now the questions that arise in most of our minds are that "had it been possible to reduce the impact of this Pandemic or at least mitigate this" even for some businesses?
So that if there be a next time, we should not have any illusion about this.
Hence, right now we need to learn out of this global crisis knowing that it is only "Experience" what makes customer remain loyal to us and so all businesses need to be able to serve as many customers' requirements as technically possible with the minimum friction on all available channels, which is the need of the hour for business growth.
Therefore acknowledging the fact that good customer experience also needs satisfactory employee experience, there are several options open for businesses to consider and engage in order to be available to their customers like it was ever before, during the pre-COVID times.
As one of the award-winning vendors of easy to use CRM platforms, here are a few possible ways from us that might help businesses to prepare better to deal with the present situation that several companies are facing today:
1. Enable simple and easy, but secured, remote access for all employees that could benefit from working-from-home
We all know in all businesses many of our jobs can be at least partly done from our homes. Especially employees who can contribute to a customer experience should be able to do so.  Since these employees are necessarily not on the field or frontline staff.
It is a cliché that bad times most often brings out the best or the worst in people. Therefore, assist your staffs to bring out their best during this Pandemic.
Remember, most of us want to be a part of a purpose that is not only true for the normal times but even more accurate in times of crisis.
# Action Item For The Leaders
Spent time, money, and resources in the tools and infrastructure that your employees require to remain productive and helpful when they cannot come to their office.
For this create new guidelines and relevant procedures in place that can help your staff to work remotely when it really demands such actions, which can include software and systems that people require to perform their work over available remote access, which can be ideally done by migrated to the Cloud.
Now a critical part of this infrastructure is to provide them the right set of productivity tools that can help people to collaborate which can include technology solutions like Microsoft Office 365, to several CRM software systems like Salesforce and many other cloud-based Salesforce Alternative CRM platforms that can also seamlessly integrate with other third-party business growth technology solutions available in the marketplace.
2 Expand remote workforce infrastructure effectiveness and efficiency
By this we imply using technology solutions like for example, make the hard works of the sales reps a little easier by investing and adopting a tool that works on conversational technology which can take away some strain of your coworkers.
An excellent way to achieve this is to implement a "Conversational AI (Artificial Intelligence)" that bases on the same platform or greatly supports the one that your company's systems are working on.
Secondly, it is also important that the tool being offered is fast and effective and requires very quick implementation time to achieve its value.
# Action Item For The Leaders
Find and deploy a conversational AI system that is the best match for the infrastructure that you use in your IT and which is capable of scaling up with your business. Most big vendors of AI tools and even startup AI-based companies nowadays have this capability that can easily deploy and implement AI in businesses with ever-increasing and useful scope.
3. Create, implement and sustain a business model that scale
To elaborate on this point, let us take wine tasting as an example to illustrate this as it can be considered both as an offline and social business. 
Now, wine tasting is one of the primary sources of leads and revenue channels for companies that are into the winemaking business, as it helps these organizations to attract and identify clients as well as understand their taste and preferences.
Therefore by offerings, these people a virtual wine tasting room, and a virtual toasting platform traditional wineries can provide for the social aspect with the help of technology when people are not being able to gather or travel to their favorite shops for purchasing their desired wines.
This social aspect may come from the inclusion of web meeting technology and can be delivered also via video clips, as we have found customers are getting more and more used to hybrid or online business models nowadays, and so this example of wineries is only one possible example out of many.
# Action Item For The Leaders
Find and invest in cloud-based advanced pattern-matching technology and analytics like an easy to use CRM that helps in attracting, identifying, and find engagements with your customers.
Therefore even for offline businesses, there are several possibilities (like the one illustrated above) with no initial need to go expensive, as long the analytics platform supports your main business platform and processes.
4. For brands with a strong service component, keep this service level high
Boosting the efficiency in service can be achieved by two means. One by investing in people and the other by spending on cutting-edge technology. 
Now as both these ways are important, what should businesses do if it is not possible to invest enough on people or like in the present moment not get enough staff?
It has been observed that modern customers prefer to interact with humans or human-like interfaces like Chatbots.
Hence if businesses cannot hire enough staff for boosting their service, the only remaining answer lies with technology that can aid businesses to grow in troubled times.
# Action Item For The Leaders
Seek and invest in self-service automation technologies. This is because, since your support and service agents must already have several of their answers to the questions documented, and the most frequent support-related questions are supported by FAQs, it can help in implementing solutions with limited efforts that can provide your users with a human-like interface and thereby take the load off your support staffs to increase their effectivity and efficiency (and also employee confidence).
5. Maintain operations up more smoothly with process automation or RPA (Robotic Process Automation) in the back office
We all know that there is a myriad of processes in businesses, which at the best of times, require manual interventions, even though there are several processes in the modern times that can get automated to a far higher degree.
Mostly these processes are back-end and front-end processes, which include invoice reconciliation, opportunity scoring, and many more, which take much more time without external challenges that are not going to be better when having them.
# Action Item For The Leaders
Find out which RPA software matches with your type of business software, or there are possibilities of even using automation (without using advanced AI) already within your business software. 
Apart from this perform a parallel check for identifying repetitive processes that can get simplified or automated using cutting-edge business growth technology and tools.
Cutting through corporate red-tapes and implementing these processes, mostly makes life easier for staffs, in these dire times.
6. Be a good corporate citizen
Even though this final point does not cost you a dime, nevertheless is good for your brand and business as customers nowadays are looking more and more at how brands behave towards society, which can be easily observed looking at the current interactions on Facebook or Twitter.
For example, you shall find there are several organizations that have announced about making software available without charging for organizations and businesses to support workforces going remote which have found overwhelming positive reactions on the social media platforms.
# Action Item For The Leaders
Find out how your brand or business can contribute to the society in this Pandemic without harming your main business, which for example can lead from changing your production from fashion clothing to face masks, or manufacturing sanitizers instead of liquors, distribute collaboration software for free or by other means perform something that includes your own employees and their families to save the world from this COVID-19 malady.
Conclusion
Therefore the bottom line is this that businesses by enabling ML (Machine Learning), AI or any other business growth technology like an easy to use CRM, brands must first build strategies to follow their vision and mission,  and more essentially develop their strategy juxtaposing social and cultural contributions that include giving back to the community during these COVID-19 Pandemic times.