Lead Nurturing Program- The Magic Pill For Your Business Growth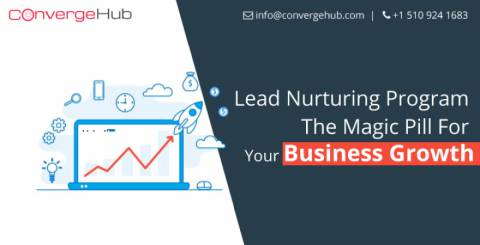 None can deny the fact the lead nurturing is one of the most vital processes that every business needs for growing its sales funnel.
Since it is only a very small percentage of leads that you capture by your lead generation programs are likely to be 'sales-ready' if they are not persistently nurtured properly.
So nurturing prospective customers for meliorating end results of your business is an important process, which calls for devising and applying an efficient and strong lead nurturing strategy to achieve your business goals.
Therefore, here are a few most essential lead nurturing best practices that can guide you on how you can use technology to fuel massive business growth
1. Use Email Messages
When you are sending emails to your prospective customers always ensure that your emails contain something that can be of value and interest to them. Else why would they waste their time reading the contents in your email?
For example, if you are into Merchant Cash Advance or alternative financing business you first lead nurturing emails might focus on a topic like "Difference between a Merchant Cash Advance and a Loan".
Therefore, when you are using MCA CRM software to create an automated lead nurturing email campaign for your Cash Advance leads and prospects in your CRM database dish out something engaging and new and you can be sure that your prospects will be more than eager to receive your emails.
Ideally, for nurturing campaigns, your emails should contain one central topic and also just one predominant CTA (Call-to-Action).
It is important that you must necessarily remain focused on your subject or you may run the risk of putting your audience off with boring and irrelevant contents.
Try to address directly to the problem that your lead is trying to solve, so that that you can get them to go through your email and understand your proposition clearly.
Like many other vital aspects of Inbound Marketing, efficient lead nurturing programs can be assessed and measured by evaluating certain parameters which can be found is most easy to use CRM software platforms.
Here are the three metrics that you must track regularly while conducting your lead nurturing programs to gauge the efficiency of your email campaigns:
Email Open Rate- The percentage of people who opened your lead nurturing emails.
Click Through Rate- The percent of people who clicked the CTA or any other link in the email.
Unsubscribe Rate- The number of people who stopped receiving your emails.
2. Use Telemarketing
Employing inside sales representatives who are specially trained in your offerings or appointing a telemarketing service vendor that specializes in B2B lead nurturing is another way for winning your leads.
Now, do not expect your telemarketing representatives to close the deals by making these calls since in most cases your prospects will not be ready to make a purchase yet.
Hence, always remember these calls are most essentially meant to provide additional information and extra educational resources that will assist in moving the leads and prospects for conversion through the sales funnel.
Moreover, you can even use these conversations to gather more lead qualifying information in your CRM database, such as a particular organization's size and its business needs or a possible time-frame for closing the deal.
3. Evaluate Quality Of The Leads
In lead nurturing it is an extremely crucial element to judge whether the leads in your CRM database are good enough to be passed along to the sales team, which is a way that can help you to measure the effectiveness of your marketing campaigns.
Therefore you can implement a lead scoring system in your easy to use CRM software which can help you to find and segregate the sales-ready leads in your database.
However, before implementing your lead scoring parameters always consult with your sales teams before setting the criteria for scoring your leads.
Wrap Up
Lead nurturing with the help of easy to use CRM ought to be the priority for every company especially in the B2B landscape.
This the reason as to which with inbound marketing proving its salt and becoming extremely effectual in delivering pre-qualified leads to the sales teams, lead nurturing has become the magic pill for businesses that are ready to leave the world of mediocre growth, low sales and missed quotas behind and take a quantum leap in their business leadership to build a high growth sales engine that promises stellar revenue growth.