How to Create Your Sales Pipeline like a Well-Oiled Machine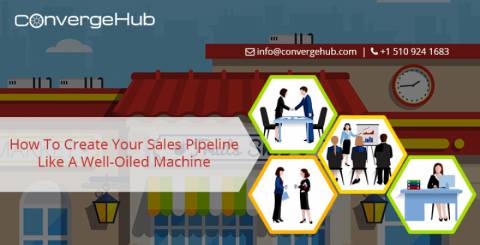 A sales pipeline is the soul of your business. This is because the sales pipeline is one of the main components that can predict whether your businesses' sales funnel is balanced and healthy, or if there is any deficiency in the vital stages of your sales processes.
Therefore the metrics of your sales pipeline must be check meticulously and regularly with the help of easy to use CRM platform.
Since, if you do not manage your sales pipeline efficiently, you run the risk of losing on fresh sales opportunities, acquiring new customers or suffer by finding a negative growth on your close ratios.
Hence to keep your pipeline in sales full and your sales closing ratio high here are a few best practices that you can implement while working with your sales pipeline.
What is a Sales Pipeline?
For any organization, a sales pipeline is a visual representation of the sales cycle of your business.
This is because; it is only a pipeline that aids salespeople to find a better understanding of where their prospects are in their sales process and show how far are they from winning their deals.
Sales pipeline also helps sales managers to foresee the number of deals they are anticipating to close within a given timeframe, how close they are to achieving their sales quotas, and the average size of their deals.
For the B2B industry, efficient management of sales pipeline using easy to use CRM helps in:
 Boosting the sales cycle
 Forecast potential selling opportunities
 Analyze various stages of the sales cycle
 Manage sales teams to close deals faster
 Review sales velocity for the current financial year
 Determine how close they are from reaching their sales goals
In other words, the sales pipeline in any business is a pivotal asset for scoping out the sages of the sales cycle in order to close the deals.
Therefore, here are four unnoticed ways to gear up your sales pipeline:
1. Follow Up with the Follow Troughs
Although it can sound really simple, remembering to follow-up with vital sales opportunities, in reality, is not at all easy.
In fact, currently, it is ranked as the third biggest obstacle and challenge for sales teams, as sales professional according to SuperOffice, give up outreaching after just two attempts.
Nevertheless, it must be remembered at all times, that consumers have a plethora of options at their fingertips, and so they need help from the sales reps to make their purchasing decision, which mostly requires the extra personal touch by following up with the prospects in a genuine manner.
This is because; to really identify any person's business needs and learn how your offerings can help them to solve their problems takes time which is only possible by doing follow-ups at a regular interval for winning the deals.
2. Ensure That Your Sales and Marketing Teams are Working in Tandem
According to a recent survey done MarketingCharts, it has been observed that even less than 27 percent of sales reps collaborate with their marketers for creating contents that are capable of supporting the sales teams.
Therefore, if marketing and sales in an organization work together, they are sure to generate contents that will aid potential customers and decision makers to trust your brand.
Hence, in order to keep your leads and prospects moving down the funnel in a clockwise manner, it is most important to keep your marketers involved in your sales process.
Remember in order to maintain a healthy sales pipeline, you must brainstorm with your marketers about what kind of content you can provide to your prospective customers at each step of the pipeline that will aid in reinforcing your messages and guide the prospect to the next phase.
3. Use an Easy to Use CRM to Manage Leads and Sales
When your sales pipeline is full of leads (in different stages of your sales process) it is extremely important that you must stay on the top of key opportunities.
Are your sales teams still using sticky notes and managing relationships on spreadsheets?
If so, why have you not yet started using easy to use CRM for sustaining your business growth ?
This is because, without the help of the right easy to use CRM software, your sales teams will never be able to handle their sales pipelines professionally and so always run the risk of losing prospective customers and important contact information that would have otherwise remained safely stored in the CRM database.
In fact, easy to use CRM software has nowadays become such a critical part for managing sales pipelines that sales reps in all verticals rank CRM solution as their second most important sales tool.
Easy to use CRM not only automates the internal processes of your sales teams, but it even aids in tracking the metrics of sales pipeline management by managing a very large volume of lead information and unifying the contact records in the CRM database for a more streamlined workflow.
4. Shorten Your Sales Cycle
According to CSOInsights, more than 27 percent of salespersons states that an extremely prolonged sales cycle is most often than not one of the greatest obstacles that affect their success in sales.
This is because, the more stages that you have in your sales cycle, the more chances are there that your prospects will have the chance to change their minds or find any other alternative solutions for their requirements in the marketplace.
This is the main reason as to why you must keep your sales cycle sweet and short.
Now, reducing the number of stages in your sales funnel necessarily does not mean that your sales reps should bombard the leads with all your outreach materials in a single day.
Therefore, consider ways to shorten your sales cycle wherever it is possible by reducing the number of days between follow-ups or by providing the prospects with more meaningful and pertinent information off the bat, which can help shorten their decision-making time.
Conclusion
Staying on top of contact information and sales opportunities can be tough.
Therefore using these road-tested tips and tricks, and by implementing easy to use CRM for your business will ensure that your marketing and sales teams are working in tandem for shorting the duration of their sales process that will make it easier and faster for your sales teams to handle their sales pipelines and close their deals.