How To Comprehend The Customer Lifecycle Using CLM CRM Software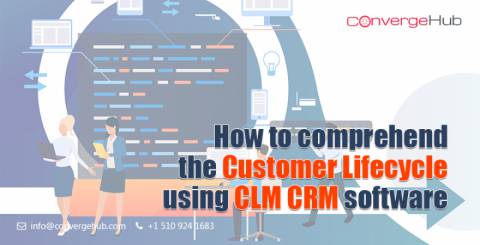 For users of the CLM CRM platform to understand the esoteric 'Customer Lifecycle' may sound like a mysterious theory better suited for MBA students than for business owners in our present marketplace.
Nevertheless, CLM or Customer Lifecycle Management is a concept as well as a strategy that helps in lowering costs and boosting revenue.
Now there are several authors that have already written tons of pages about the details of each step in CLM. Nevertheless, by understanding how all these steps add up to complete the full cycle of any given customer's lifecycle with your brand aids in putting the entire CLM process in perspective.
Therefore, here are five easy steps to understand the customer lifecycle by using a business growth technology like a CLM CRM tool.
Step #1
Reach
This is the initial step in CLM when you make your primary contact with the prospective customer. It can happen in several ways like delivering a social coupon over email, putting a roadside ad, or by meeting a customer because someone heard something good about your company from his or her colleagues, relatives or friends.
Metrics found in CLM CRM software is extremely important at this stage, as it easily lets you find which marketing efforts provided the best reach for the money you did spend for the marketing of your offerings.
Step #2
Acquisition
In this step, the primary goal of the user of the CLM CRM platform is to collect the prospective customer's contact details, which include email address, contact number and social profile of the customer.
In this stage, the prospective customer is just interested in buying your product, but not yet ready to make a purchase from your company.
Now to move the prospect towards the next step, your sales reps can begin by collecting more information and enter them in your easy to use CRM tool, after which once you have gathered and organized all the necessary it is time to use them to start an ongoing communication with the prospect through phone calls, emails and social media marketing activities.
Step #3
Conversion
In this step, the user of CLM CRM software enters the most coveted step, since at this stage the fence-sitting prospect eventually becomes your customers after they make their very first purchase from your brand.
Therefore now is the time that you must take the chance to impress the customer by providing him or her with a world-class buying experience.
Now if you are selling online, for rendering a great busying experience ensure that your website is easy to navigate and you are using a secured payment gateway.
Now if you have been using an easy to use CRM you can use the software at this stage to send quotations and create invoices for the customers.
Additionally, you can also use the CLM CRM to track the behaviors of your customers and find out whether they are happy with their customer experience after purchasing your offerings and receiving your services.
Step #4
Retention
In this stage in the CLM CRM process, the aim of the user of the software should be to build a long-term relationship with the purchaser who has bought your offering(s) for the first time.
This is because excellent after-sales support and world-class customer service can help businesses to obtain repeat orders from their existing customers.
Therefore to manage relationships with the customer at this phase, the users of the CLM CRM tool need to study the customer's behaviors by using different marketing techniques for different customers.
For instance, while certain customers can be retained by announcing a loyalty program for your brand, others may find good after-sales service more impressive for continuing their relationship with your company.
Now, using an easy to use CRM provides enough information to the users of the software to make an informed decision about what is the best way for retaining any customer.
Step #5
Advocacy
In this last step of the customer's lifecycle with your brand, once you have created a relationship with your customers who are happy with your services and offerings, your loyal customers will not only continue to purchase from your brand but will also promote your company through word-of-mouth recommendations to their friends, peers and colleagues.
Moreover, there may be even some customers who can post positive reviews of your offerings online that will, in turn, boost the reputation of your business and your company.
Conclusion
Even though Understanding the Customer Lifecycle Management is indeed a complicated task, some of the most used KPI (Key Performance Indicator) found in CLM CRM software platforms are:
New Customers Acquired
Renewals
Up-sells
Cross-sells
Adoption and Usage Frequency
Rate of Customer Churn
Net Promoter Score (NPS)- for measuring loyalty
Post Selling Referrals and Advocacy
Thereafter now that you know what is Customer Lifecycle Management to find the best result buy CRM to gain insights into your customer behavior and use its functionalities to take action at every stage of the customer's lifecycle with your brand, which a business growth technology like a CLM CRM can provide to its users easily.