Follow These Easy Tips to Bring Back Your Lost Customers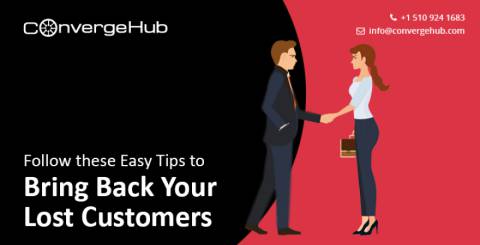 Since it is much easier to retain existing customers than finding new ones, hence never give up on the customer if you lose them.
We know it is true that rejections are difficult to deal with, as management of customer relationships is crucial for all businesses.
Therefore, be honest with yourself and your teams, whenever you lose any customer, which is known as the micro-level response as a customer relationship manager in your company.
Thereafter try to figure out as to why they have left since it might be that there is something that needs to be altered and changed which is known as a macro-level response as the manager of customer relationships for your brand.
Hence, in this article let us outline certain steps for you to win back the customers that you have lost for consistent business growth:
Keep a record of the customers that your business has lost
Now, to bring back lost customers it is extremely important to know who those customers that have left your brand are. Since, this is the starting point for customer relationship management in terms of lost customers whereby once you have the records you need to segment them in your CRM database, based on the reasons for their churn.
To make things easier, you can create two categories the first for dis-adopters (the customers who have totally stopped purchasing or have completely given up on your offerings) and the second one for customers who have left your brand for a competitor in your marketplace.
Apologize professionally and respectfully
When you are building your brands' customer relationship management strategy, you must also create a team that will be in charge of reaching out to the customers individually that have left your business.
Now when they reach out these team members need to do a couple of things.
First and foremost this team needs to find out and thereafter understand why the customers left and subsequently apologize for any wrongdoings, even before they try to win the customers back into your fold.
Now, the second most important and crucial aspect as you strive to win back the customers is the way you apologize to them.
We say this since this is an extremely tricky game as you just cannot be insincere with your lost customers or make your apology sound like you want to once more up-sell your offerings.
Hence educate your team so that they sound genuinely sorry and want to make amends for what that went wrong before.
Here is a process we have found as one of the award-winning vendors of CRM for small business and startups for how your organization can apologize respectfully and professionally:
You can start your apology by saying "On behalf of (your company's name), I would like to apologize for the service that you received when you shopped with us on (provide the date).
In the next step, allow the customer to talk about their experience with your brand, and listen closely since customers want to be heard and respected.
Make certain that you should record everything that the customer says before you offer any support since you must understand that your customer is in pain and therefore you need to put in extra care while you want to win back your lost customers.
In the last step offer your support to the customer, an offer that should entice the customers to come back and buy from your company, but remember you offer should never seem like a gimmick.
Understand why the customer went away
The customer relationship team in charge of communicating with the lost customers must bring back what they recorded to their managers.
This is because your managers need to compile these data and identify trends from this information which can be easily done once you buy CRM which is one of the best business growth technology and tools for customer relationship management that may affect your business.  
You may find a product or a process that is turning your customers away, and so once you identify the cause of the churn, do your best to eliminate these trends, which is hurting your bottom line.
This is also because, once you are capable of retaining your lost customer, they will be expecting that the same issue does not happen to them once again.
Treat regained customers like gold
Lastly, after you win back your customers, consider your relationship with them as precarious as walking on thin ice. Hence, now that you know who are the customers those that can walk away from your business, make sure that your easy to use CRM has a database of these customers that you had lost but were able to win back and provide them extra-care and world-class customer experience so that they do not leave your business for your competitors in the marketplace anymore.