Everything You Need To Know About Patio Blinds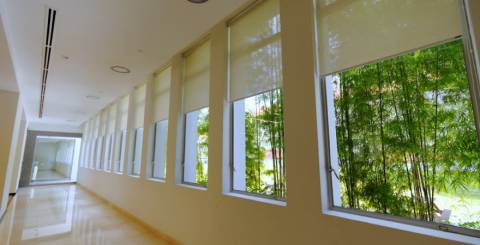 Is the scorching heat of the summer, or the chilly winds of the winter barring you from spending your time outdoors? This article will provide you the best solution to this problem and will get your started for making your outdoor plans and enjoying your time to the fullest. Well, have you heard about patio blinds? Patio blinds are great not only for providing protection, but also serve as excellent decorative items that can impart an aesthetic feeling to the house. These blinds are available in a range of varieties, which can make a space look sophisticated, elegant, and charming. Read on to learn more about patio blinds. 
Why Should One Use Patio Blinds?
There are several reasons as to why one should use patio blinds. They offer an exorbitant range of advantages if they are correctly installed. Some of the benefits of using Patio blinds are as follows: 
They Help To Maximize The Space:
If the place where you are planning to install the patio blinds is less spacious, then these blinds will help to maximize the space. You can easily divide the space and transform a small area for different kinds of purposes. For instance, a patio blind can help to convert the patio into an area for entertainment. 
They Offer Protection Against External Factors:
Choose to install high-quality Patio blinds in your house. You'll be glad to know that these blinds will provide you ample protection against the different adversities of nature like heat, sunlight, dust, insects, wind, rain, and so on. Once you install Patio blinds, you can use these places without much concern for the natural elements causing damage to your belongings. 
They Help To Slash Down Your Energy Bills:
The patio blinds are designed in such a manner that they can help you to slash down the energy bills. These blinds offer thermal insulation. They can keep a space warm during winters and cool during summers. In this manner, you can get to reduce as much as 50% of the consumption of electricity. 
They Offer Increased Privacy: 
Patio blinds are available in a wide variety of colors. You can easily choose a color which can help you to increase the privacy of the outdoor space of your house when you need it. If you install Patio blinds of the right color, they can make you feel sheltered and comfortable. You can remain assured that your neighbors are not spying on you. 
They Impart An Aesthetic Appeal To Your House:
Patio blinds are available in a wide variety of styles and colors. Choose the blinds which go well with the architecture and decor of your house. 
They Are Very Versatile:
Another advantage of using Patio blinds is that they are convenient. You can get customized patio blinds according to your choice of size, color, texture, pattern, and so on. These blinds can blend themselves seamlessly with almost any kind of backdrop. 
They Are Easy To Use:
Patio blinds are very easy to use. They come with options of manual or motorized operations, which makes them extremely easy to use. Blinds are often made from different types of materials, some expensive, and a few less so.
Conclusion
In a nutshell, it can be said that patio blinds help you to maintain the privacy of your house whilst still maintaining a connection with the environment. You can also get your patio blinds customized and designed according to your convenience. Depending upon your requirement, you can also choose the material of the patio blinds. There are also zip-track blinds that allow you to control the amount of light or air entering your house.